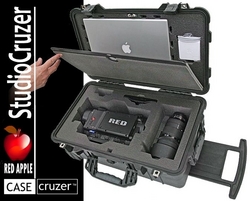 (PRWEB) July 29, 2008 -–
Making a movie is hard enough without worrying about the safety of your Red camera and your MacBook Pro laptop. On location or traveling by land, sea or air, cinematographers and producers know their expensive digital hardware deserves the same sweet treatment as their leading lady. After all, a Red Apple a day keeps your valuables safe in an elaborate way.
Introducing the world's first digital cinema production system secured in a protective carry-on, roll-away case. Now movie makers can go with the flow and roll with the punches without fear of baggage handlers, clumsy grips or temperamental talent. The mobile Red Apple StudioCruzer is another big summer release by CaseCruzer.
This pioneering Red camera Pelican travel case is the toughest airline-legal carry-on case available today. Its interior provides a snug, protective fit for the elite Red One ™ digital motion-picture camera that shoots like a 35mm-film camera. The base of the Red Apple has separate cutouts for the Red camera body with LED viewfinder and the lens. In fact, the lens area can accommodate up to a 300mm prime lens for the camera, thanks to its modular design.
The exclusive lid compartment in the Red Apple StudioCruzer provides a tight wrap for an Apple MacBook Pro (15" or 17") laptop with a separate cutout for the power supply. The case does not accommodate accessories, which are easily and safely stored in conventional luggage. But what's most important to your success? Lights, camera – accessories?! Uh, no. Take action now and protect your hi-tech $17,000 digital investment.
On location, cinematographers are ready to roll into any terrain, thanks to Red Apple's mounted urethane wheels and 17-inch retractable extension handle and superior mobility. Also, since the case is equipped with side and front handles, it is easy to maneuver in any situation: the High Sierras, Cleopatra's boudoir, or in a jeep being chased by King Kong.
The Red Apple StudioCruzer is rugged, too. The metal reinforced padlock protectors add strength and extra security against cutting and theft. This case is not only waterproof but ready and willing to be strapped to a kayak or canoe for adventure, travel or Tarzan remakes.
Needless to say, like all Pelican cases, the Red Apple StudioCruzer is also airtight and dustproof, with neoprene o-ring seal and automatic purge valve with Gore-Tex®. Dimensions are 22" L x 14" W x 9" H. Oh, yes, like any classic, Red Apple will endure because it comes with an unconditional lifetime warranty.
The Red Apple StudioCruzer is designed to provide moderate protection as a carry-on. It is not intended to be used as a shipping case or check-in luggage. CaseCruzer has developed other products for heavy duty protection.
Think Pelican is an impressive box office name? You're right. But top billing always goes to CaseCruzer – a new class of high-impact watertight protective cases also known as Pelican Plus.
CaseCruzer is a world leader in reusable carrying case solutions serving Aeronautics, Communications, Computers & Laptops, Electronics, Film & Broadcasting, Industrial, Medical, Photography & Videography, Transportation, and other markets. For more info about the new StudioCruzer case for the Red camera and MacBook, visit http://www.casecruzer.com; call 800-882-4730 in the U.S. or 909-613-1999 internationally; fax 909-465-5598; or write to CaseCruzer at 4665 State Street, Montclair, CA 91763.
###