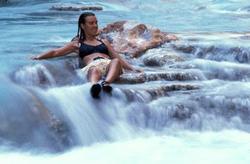 River Network believes that strong community-based groups are our best opportunity to protect and restore our rivers, lakes, streams, estuaries and watersheds
Portland, OR (PRWEB) July 22, 2008
For the third consecutive year, River Network and Busch beer are partnering to protect rivers in Oregon and Washington. As environmental concerns continue to rise, it becomes increasingly important to maintain the health of our region's rivers, which are a major source of water for drinking, industry, agriculture, recreation and fish and wildlife habitat. With a grant from Busch beer, River Network will provide services and technical training to nearly 100 grassroots organizations in the Northwest to help improve local water protection and restoration efforts in hundreds of communities in both states.
To celebrate outdoor recreation on our rivers, River Network and Busch beer will award 24 lucky winners with rafting adventure trips on the Skagit, Wenatchee and White Salmon rivers in Washington, and the Deschutes and Upper Klamath rivers in Oregon, plus offer a guided fishing trip in Oregon. From now through August 15, 2008, adults 21 and older may register online at http://www.buschwhitewater.com for a chance to win these premium Northwest adventures. Anheuser-Busch wholesalers and retailers throughout both states are supporting the program with Busch in-store displays that direct adult consumers to the web site to register.
As part of this partnership, Busch beer will also fund on-the-ground restoration and clean-up projects on each of these five great rivers. River Network will work with its dozens of community partners to select and implement these projects throughout the coming year.
When people drink water from a river or reservoir, pull a fish or two from their favorite fishing hole or enjoy a river float on a hot summer day, they might not give much thought to the challenges communities face to protect these resources.
"River Network believes that strong community-based groups are our best opportunity to protect and restore our rivers, lakes, streams, estuaries and watersheds," says Don Elder, president of River Network. "We are grateful that Anheuser-Busch and Busch beer continue their support to help preserve our precious waters for all people, wildlife and future generations, and we strongly believe this financial investment will pay great long-term dividends to the citizens of Oregon and Washington".
"We are pleased to work with River Network to create awareness about the importance of protecting our water resources and particularly proud to support community-based projects on these amazing rivers," said Charlie Hodges, Busch beer product manager for Anheuser-Busch, Inc. "For more than 100 years, our company has had a rich tradition of protecting the environment, including our water resources, so that future generations will be able to enjoy them just as we do."
About River Network:
For 20 years, River Network has provided organizational, technical and networking assistance to people working for watershed protection at the local, state and regional levels. In addition, River Network serves as a catalyst and coordinator for major projects, such as this one, that require national leadership and collaboration among widely separated organizations and agencies. With more than 700 partner groups in all 50 states and beyond, River Network is helping build a powerful new watershed protection movement in the United States. To learn more about River Network, visit http://www.rivernetwork.org.
About Anheuser-Busch:
Based in St. Louis, Anheuser Busch is the leading American brewer, holding a 48.5 percent share of U.S. beer sales. In addition to Busch beer, the company brews the world's largest-selling beers, Budweiser and Bud Light. Anheuser Busch also owns a 50 percent share in Grupo Modelo, Mexico's leading brewer, and a 27 percent share in China brewer Tsingtao, whose namesake beer brand is the country's best-selling premium beer. Anheuser-Busch ranked No. 1 among beverage companies in FORTUNE Magazine's Most Admired U.S. and Global Companies lists in 2008. Anheuser Busch is one of the largest theme park operators in the United States, is a major manufacturer of aluminum cans and one of the world's largest recyclers of aluminum cans. For more information, visit http://www.anheuser-busch.com.
For additional information on this partnership, or to schedule an interview with River Network, please call Matt Burke at 503-542-8383 or email Matt at mburke @ rivernetwork.org.
###