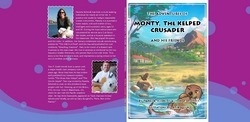 Barnegat, NJ (PRWEB) July 23, 2008
"Monty, The Kelped Crusader", Pamela Schmidt's delightful tale of three otters who find themselves having to make choices not unlike those of any young child, has begun receiving rave reviews from parents and educators.
Inspired by her love of children and animals, Pamela has skillfully married the cuteness and the delightful capacity of sea otters with the necessities of teaching our children important lessons about life. Creating three adorable otters: Monty, Taffy and Ollie, she brings them alive in an anthropomorphic way that children will find amusing and compelling. Beautifully illustrated with full-page color pictures, children between the ages of 5 and 11 years old will find the book both entertaining as well as educational. A convenient and simple glossary is provided at the end of the book that defines some of the marine animals mentioned.
Educators who have previewed the book find it a "very useful adjunct" in conveying important lessons as well as describing the life of otters as they go about their daily habits. It is deliberately written in large, easy-to-read type face that children of varying intellectual capacities will find easy to understand and to relate.
Sequels from this story are easy to envision. Pamela Schmidt, with her experience as a teacher's assistant, has created a wonderful story bridge between otters and children.
From Tom F. Dodd Publications
###