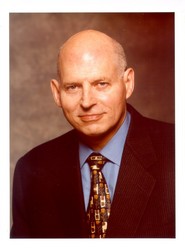 Fred was Chairman of the Board of Trustees during a period when The College was going through an enormous transformation. Because of his good humor, personal integrity, professionalism and visionary leadership, this institution is stronger than ever and continues to be the nation's leading provider of advanced financial services education
Bryn Mawr, PA (PRWEB) July 22, 2008
The American College recently selected Frederick J. Sievert, Retired President, New York Life Insurance Company to receive its highest honor, the Huebner Gold Medal. The award ceremony honoring this year's recipients will take place during the President's Circle Dinner aboard the USS Missouri in Pearl Harbor at The College's 2008 Knowledge Summit in Honolulu, HI on November 20, 2008.
"Fred was Chairman of the Board of Trustees during a period when The College was going through an enormous transformation. Because of his good humor, personal integrity, professionalism and visionary leadership, this institution is stronger than ever and continues to be the nation's leading provider of advanced financial services education," stated Larry Barton, Ph.D., President and Chief Executive Officer of The American College.
The Huebner Gold Medal is the highest honor bestowed by The American College and is named for the founder of The College, Dr. Solomon S. Huebner. The medal has been awarded annually since 1975 and honors those special few individuals whose support of the College and its programs, and whose dedication to education and professionalism, have been of particular meaning to the mission and progress of the institution. The Huebner Gold Medal recipients are recognized annually at the President's Circle dinner amid some of The American College's most dedicated supporters.
The Huebner Gold Medal is one of many well-deserved accolades earned by Sievert over the course of his distinguished career.
From 2004 - 2007, Sievert shared responsibility for the overall management of New York Life as part of the Office of the Chairman with Chairman Sy Sternberg. During that period he was a member of New York Life's Executive Management Committee, and responsible for establishing management policies in all areas of the company's business and affairs. In addition, Sievert was President and a member of the board of the New York Life Insurance and Annuity Corporation and served as chairman of the board of the NYLIFE Insurance Company of Arizona. He is a former director of LIMRA and the Life Insurance Council of New York, (LICONY).
Sievert joined New York Life in 1992 as senior vice president and chief financial officer with responsibility for the Financial Management Department of Individual Operations. In 1994, he took over responsibility for the Individual Life, Individual Annuity and Disability Income Departments. In 1995, Sievert was promoted to executive vice president with the additional responsibility of overseeing Individual Policyholder Services and Agency Sales and Marketing. He was elected to the Board of Directors of New York Life in November 1996, and became vice chairman in January 1997. In 1999, he was given oversight responsibility for the Special Markets Business Units and the Corporate Marketing Department. Sievert also served on the Board of Directors for Max New York Life, the company's joint venture in India, Siam Commercial New York Life, the joint venture in Thailand, and the company's South Korea operation. In 2002, Sievert was elected President of New York Life.
He is a Fellow of the Society of Actuaries, a member of the American Academy of Actuaries and Chairman of the Actuarial Foundation. Sievert received a B.A. degree from Amherst College and an M.A. degree from Wayne State University.
Sievert joined The American College Board in 2000 and has served as a member of the Executive Committee. He was recently elected a Life Trustee. Sievert has also served as a member of The American College Foundation Board of Directors.
He is currently pursuing a graduate degree at Yale Divinity School. Sievert teaches a course on leadership at Fairfield University and he continues to serve on numerous non-profit boards. He and his wife Susan, live in Stamford, CT. They have three daughters, Heidi, Dena and Denise, two sons, Zac and Corey, and one grandchild Mia.
Sievert's name will be added to the Huebner Gold Medal Recognition Wall located on The College's campus in Bryn Mawr, Pennsylvania. This wall includes the names of every medal recipient since the award's inception.
For more information on joining the President's Circle and attending the dinner honoring Sievert aboard the USS Missouri, please contact Mary Phelan at 610-526-1432 or via e-mail at Mary.Phelan @ TheAmericanCollege.edu
New York Life Insurance Company, a Fortune 100 company founded in 1845, is the largest mutual life insurance company in the United States and one of the largest life insurers in the world. New York Life has the highest possible financial strength ratings from all four of the major credit rating agencies. Headquartered in New York City, New York Life's family of companies offers life insurance, retirement income, investments and long-term care insurance. New York Life Investment Management LLC provides institutional asset management and retirement plan services. Other New York Life affiliates provide an array of securities products and services, as well as institutional and retail mutual funds. Please visit New York Life's Web site at NewYorkLife.com for more information.
The American College is dedicated to leadership in innovative training and development that helps financial services companies and their employees succeed. As a non-profit educational institution holding the highest level of academic accreditation, The College has served as a valued business partner to banks, brokerage firms, insurance companies and others for 80 years. The American College's faculty represents some of the financial services industry's foremost thought leaders. For more information, visit TheAmericanCollege.edu
# # #