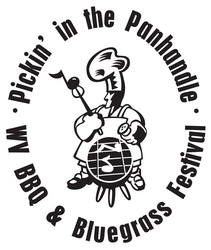 Martinsburg, West Virginia (Vocus) July 23, 2008
The West Virginia State BBQ & Bluegrass Festival, Pickin' in the Panhandle, is looking for people who think their BBQ skills are the best of the best. Whether you are a professional BBQ chef or rule the grill in your own backyard, join in the competitions on September 6 and September 7, 2008, for cash prizes!
Enjoying music and BBQ with your family are the main goals of the festival; however, participants of the BBQ competitions will be required to follow the KCBS guidelines which can be found at http://www.kcbs.us. The backyard BBQ competition will also give points for creativity and feature a special celebrity judge! All competitors must be pre-registered by August 31st, 2008 by calling the Martinsburg-Berkeley County Convention Visitors Bureau or by filling out the form at http://www.PanhandlePickin.com. Professional competition fee is $200 and Backyard competition is $50. All registrations get a free tee shirt!
Pickin' in the Panhandle is an event the whole family will enjoy. Located in scenic Back Creek Valley, West Virginia at the Lazy A Campground, Pickin' promises hours of musical entertainment and mouth watering food for you to enjoy. Advance tickets will be available after May 1 for $10/adult and $5/kids and students (kids under 3 are free) and can be purchased from the Martinsburg-Berkeley County Convention and Visitor's Bureau at (304) 264-8801.
Media Contact:
Sandy Sponaugle
304-876-8321
Festival Contact:
Martinsburg-Berkeley County Convention and Visitor's Bureau
304-264-8801
###