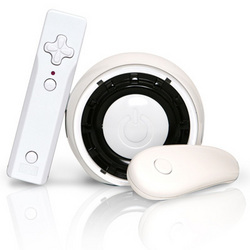 This is an exciting product that is sure to be a huge holiday hit
Colonial Heights, VA (PRWEB) July 21, 2008
A new interactive video sports game system has recently been introduced by firstSTREET, a private national direct-marketing company that focuses on products for "baby boomers and beyond." The Swinger Video Sports unit features the interactive technology, motion-directed hand controls and the sensitivity to player movement that allow a player to participate in a number of sports activities without leaving the home.
Chris Fawcett, COO of firstSTREET, says the company is pleased to be one of the first marketers to partner with Senario Toy Company to promote Swinger. "This is an exciting product that is sure to be a huge holiday hit," he says, adding that firstSTREET is fortunate to be able to promote Swinger at a time when home video games with motion-based controllers are experiencing "truly phenomenal" success.
Video sports games that can be played in the home with family and friends are among the most popular and entertaining games today. "These are games that get folks up and moving around at the level of activity with which they feel comfortable," says Fawcett. "That makes them extremely attractive to the firstSTREET baby boomer demographic. We appreciate how adaptable they are for young and old, and we also appreciate that these games are so family friendly. We're always on the lookout for products that the generations can enjoy together, especially products that may serve our customers to some extent both physically and socially."
Bud Myers, senior director of merchandising for firstSTREET, says that almost everyone can play interactive video games. "It's just a matter of swinging your arm like you're swinging a bat, golf club, bowling ball or tennis racket, or-for the boxing-taking a poke at thin air with your fist. But you can expend a little effort or a lot-it's up to the individual player. It's not necessarily a matter of power but often the orientation of your arm or wrist. That makes this the perfect game for older people, and we'd like to get more of them playing it."
Unlike some video games, with interactive sports systems you don't have to memorize and keep in your head which button to push for a desired result-with Swinger, there's actually no need to push a button at all. Using the hand-held wireless remote, you simply point it at the TV or entertainment center and it will track the position and movement of your arm or hand. Says Myers: "The action can be determined with a flip of the wrist. This technology is so amazing and so easy."
Myers says that firstSTREET sees Swinger as the first real alternative to the more expensive, big-name sports game systems. The company has priced Swinger, which is available at firstSTREET now, at an amazing $69.95 complete. "The video game experience that's presented by the Swinger Sports Game system rivals other game systems costing hundreds of dollars more."
Not only is the initial cost of Swinger far lower than other game consoles but the company does not 'bundle' the purchase price with additional costs for more controls and more games. Systems that sell as bundles often come with only one control and the customer has to buy other components as well. Swinger comes with everything needed to play, including complete controls for two players, along with five sports games.
The most popular and therefore the most important games in systems such as Swinger are always sports, and Swinger comes with five major sports games built in: tennis, boxing, baseball, bowling and golf. "This is an incredible entertainment value," says Myers.
Another unique feature with Swinger is its easy portability. The unit is battery operated and can be easily unplugged from the TV's AV input, which is usually on the front or side of a set. There's no AC outlet needed, and no hard-to-reach connection behind the TV-just unplug the unit from the input and take it anywhere, room to room, house to house. As firstSTREET is quick to say, Swinger definitely plays to the simple pleasure of being with family and friends, whatever age groups that togetherness entails.
###