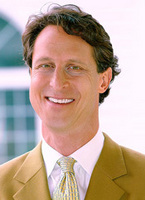 To learn more about PRWeb, click here:
Red Feather Lakes (PRWEB) July 22, 2008
New York Times bestselling author Mark Hyman, MD, will present a weekend workshop entitled Healthy Body, Happy Mind at Shambhala Mountain Center in Red Feather Lakes, Colorado, August 7 through 10, 2008. Participants will learn healthy lifestyle practices for diet, sleep, and exercise, along with simple remedies to address conditions such as inflammation, hormonal imbalances and environmental toxins.
Based on scientific evidence on how the body effects the mind and the mind affects the body, Dr. Hyman will also cover how lifestyle choices, including diet and exercise, can radically transform our brain function and deeply influence our mood, memory, and attention. Complementing this cutting-edge material, Richard Reoch, president of Shambhala, and bestselling author Susan Piver will offer instruction in the ancient wisdom traditions of Chi Kung and Buddhist meditation.
Dr. Hyman is the medical director and founder of The UltraWellness Center in Lenox, Massachusetts and was co-medical director of Canyon Ranch Lenox, one of he world's leading health resorts, for eight years. A leader in the emerging field of functional medicine, Dr. Hyman serves on the Board of Directors and faculty of the Institute for Functional Medicine. He is the author of several bestselling books, including UltraMetabolism, UltraPrevention, and The UltraSimple Diet and editor in chief of Alternative Therapies magazine. He has appeared on the Today show, The Early Show, and The View with Barbara Walters, as well as on CNN, FOX, PBS, and NPR, and is quoted regularly in leading consumer magazines, including Elle, Family Circle, Health, Self, and Shape.
Shambhala Mountain Center is a six-hundred acre sanctuary of forest, gentle meadows, and sweeping valleys just under two hours northwest of Denver International Airport. This rural setting provides an ideal environment for meditation, yoga, retreats, and conferences.
For more information, contact Brian Spielmann at (303) 545-0062, ext. 102.
###
<a name='TestComponent' style='color:#000000;text-decoration:none;'><TABLE border="0" cellspacing="1" cellpadding="5" width="250" align="center" bgcolor="#000000">
<tr>
<td bgcolor="#FFFFFF" align="center">
<a href="http://www.prweb.com/" target="_blank"><img src="https://console.prweb.com/images_v4/logo_poweredby.gif" width="95" height="33" title="Powered By PRWeb" border="0"></a>
</td>
</tr>
</TABLE>
</a>