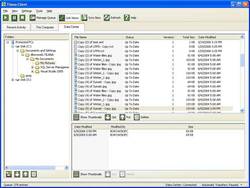 Protection, Access, Synchronization, Anytime, Anywhere, Always™
San Diego, CA (PRWEB) July 22, 2008
Tilana Systems Corporation announced today a free 1 GB storage account for 12 months of Tilana Reserve, its flagship online sync, backup, and archive SaaS. No credit card is required; all that's needed for immediate free access to the desktop software and service is the completion of a short registration form.
"Now with a zero barrier entry level, anyone and everyone can instantly benefit from using Tilana technology," said Derek Finley, Tilana Marketing VP. "The free Tilana Reserve account provides every feature of the paid service experience."
Free account users can upgrade to a paid account, at any time during the free 12-month term, starting with the $4.95 per month Tilana Reserve account, which includes 5 GB of storage. Larger storage capacities are also available in other accounts ranging in monthly pricing (10GB/$8.95/mo, 20GB/$16.95/mo, 50GB/$41.95/mo, 100GB/$79.95/mo, 200GB/$149.95/mo, and 300GB/$219.95/mo).
Tilana Reserve provides everything that simple backup leaves out, plus the best possible backup thrown in.
Tilana Reserve goes beyond the basic online backup-archive-retrieval model, first by providing the best implementation of each component, and also including an innovative combination of features, functionality, and pricing:

True Real-Time CDP (instant backups) with perpetual archive, far beyond old-fashioned scheduled backup
Automatic server based sync for folders and files, across multiple computers and operating systems (currently shipping for Windows 2000, XP, and Vista - Mac OS X version in testing)
Selective or inclusive protection and sync for an unlimited number of computers on the same account
Offline data change caching protection
Secure exclusive access through any web browser
Secure direct access via Windows Mobile 5 & 6
The Tilana Reserve desktop software is a free download, installs in about a minute and requires little if any configuration.
Any user of a Tilana Reserve paid account can become an affiliate, earning 25% of the first year's revenue resulting from new signups that use their unique Affiliate Referral code. More information about the Tilana Reserve Affiliate Program is available at the Tilana.com web site (http://www.tilana.com/tilana-reserve/affiliate.aspx).
A network software installation, Tilana RealCDP™ Suite (http://enterprise.tilana.com), is also available for scenarios in which storage capacity needs out scale what's available through the Tilana Reserve SaaS.
About Tilana Systems Corporation:
San Diego based Tilana Systems Corporation brings true value to cloud storage, by providing continuous data protection, permanent archival, web & mobile access, version history, and multi-computer synchronization on one balanced, quickly deployed, versatile, and extensible online CDP data protection and storage based synchronization platform.
Storage systems built on the Tilana Cloud platform provide end users the best kind of data protection, with encrypted true real time CDP ("Continuous Data Protection" from automated schedule-free immediate backup transfers), automated multi-computer content synchronization, and secure remote archive, with unlimited version history that enables instant any-point-in-time content recovery from PCs, Web browsers, and mobile devices.
Please visit http://www.tilana.com for more information on Tilana Reserve and Tilana Systems Corp.
The names Tilana™, Tilana RealCDP™, Tilana RealCDP™ Enterprise Suite™, Tilana Client™, Tilana WebClient™, Tilana MobileClient™, Tilana Cloud™, Tilana Reserve™, PayOnce™, and Personal Digital Archive™, as well as their associated pinecone logos and the name, are all trademarks of Tilana Systems Corporation. The words "Cure for the Common Backup™" and "Protection, Access, Synchronization, Anytime, Anywhere, Always™," when used together and in sequence, and whether used in whole or in part, are also trademarks of Tilana Systems Corporation. All other trademarks are the property of their respective owners.
Media Contact:
Derek Finley, VP Marketing
Tilana Systems Corporation
derek @ tilana.com
619.807.1437
###