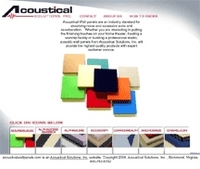 Richmond, VA (PRWEB) July 23, 2008
After the original release of the AlphaSorb™ Acoustical Wall Panel line, customer demand for specialized home theaters and recording studio panels increased. In order to meet customer needs, Acoustical Solutions, Inc. launched SoundSuede™, a line of synthetic suede acoustical panels. As the firm's reputation for quality grew, designers and architects approached the company regarding the need for fabric covered acoustical treatment without the limitations of standard sizing.
Eager to provide an industry solution, Acoustical Solutions, Inc. introduced the Common Wealth Collection. The Common Wealth Collection, available in 240 color options, includes 16 different styles of panels and bass traps to truly provide a custom look for a fraction of the price.
Until this point, fabric wrapped panel were designed specifically for sound absorption, however many customers needed sound blocking as well. In order to better serve this segment, Acoustical Solutions, Inc. developed the AlphaSorb™ Barrier wall panels. AlphaSorb™ Barrier Wall Panels have a mass loaded vinyl barrier incorporated into the panels--this effectively works as a double duty panel for both sound absorption and sound blocking.
Next on the list, the Anchorage Acoustical Wall Panels are geared toward high-end commercial offices, schools or churches. The panels are aesthetically pleasing and blend seamlessly into the décor without drawing attention. This line provides the perfect solution for customers looking for an elegant treatment without it becoming a focal point.
For customers seeking an 'out of the box' treatment, Acoustical Solutions, Inc. offers the Chameleon line of framed sound panels. The Chameleon framed panels offer great design and have very good sound absorption ratings in the mid and low frequencies. These Panels, which are housed in a metal framing system, are offered in a standard size of 2'x4's (good for smaller rooms) and are available in both 2" thick wall panels and 4" thick bass traps.
Most recently, the EcoSorpt™ Wall Panel was introduced to offer a sustainable alternative for architects and designers who require LEED® certified treatments. Made from 100% recycled cotton, these panels offer high sound absorption rates and come in a variety of colors and sizes.
As the number of wall panel treatments continues to grow, AcousticalWallPanels.com will serve as a valuable resource to educate consumers on the available alternatives provided by Acoustical Solutions, Inc.
About Acoustical Solution, Inc.
Acoustical Solutions, Inc. works with a wide variety of customers from worship facilities and office buildings to home theaters and construction companies looking for noise management. For 20 years, Acoustical Solutions, Inc. has provided the detailed expertise needed to serve the noise control community. Acoustical Solutions offers a full line of indoor and outdoor industrial, commercial, environmental and architectural noise control products. For more information please visit http://www.AcousticalSolutions.com or call 1-800-782-5742.
###