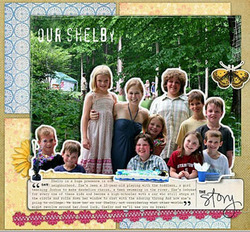 Ali Edwards is the most recognizable name in the scrapbooking industry
Bel Air, MD (PRWEB) July 24, 2008
Fans of digital printable scrapbooking have one more reason to take their hobby online. Leading Internet digital scrapbooking supplies e-tailer DesignerDigitals.com has added popular designer Ali Edwards to the site's already impressive lineup.
According to creative director Katie Pertiet, who co-owns DesignerDigitals.com with her husband, Randy Pertiet, Edwards brings an exciting resume and valuable skills to a team of 13 other digital scrapbooking design professionals, including Katie Pertiet herself.
"Ali Edwards is the most recognizable name in the scrapbooking industry," explained Katie Pertiet, co-owner and creative director at DesignerDigitals.com. "She will be designing digital scrapbooking or hybrid scrapbooking stamps and brushes, elements, overlays and layered templates."
As the landscape of crafts and hobbies changes and enters the Internet age, scrapbook supply manufacturers are beginning to recognize the need to employ artists with an understanding of digital scrapbooking design and how to adapt the medium for the Internet user. The addition of Edwards to the DesignerDigitals.com team means an even greater range of computer scrapbooking supplies and designs that are appropriate for the techniques hobbyists are currently using to scrapbook.
"DesignerDigitals.com rises above the other digital scrapbook offerings with the variety and quality of designers in the store and the range of products offered - everything from digital stamps to digital papers and everything in between," Katie Pertiet said. "There is always fresh inspiration at DesignerDigitals.com."
In addition to digital designs and scrapbook supplies, the site offers free scrapbooking ideas and advice on its designers' blogs, as well as digital scrapbooking tutorials. Registered gallery users get the added benefit of free scrapbooking printables and other freebies.
"At DesignerDigitals.com we provide inspiration to scrapbookers with creative, fresh and innovative digital scrapbooking products. Our customers can find support and encouragement as they enjoy and explore photography and scrapbooking to create keepsakes that reflect on special occasions and everyday moments," said Pertiet.
A wide selection of design galleries gives DesignerDigitals.com visitors the flexibility to choose scrapbooking borders, brushes, stamps and other scrapbook elements to create scrapbooking albums for Christmas, birthdays, children's scrapbooks and other themed compilations.
For more information about Ali Edwards or another scrapbooking designer, or for digital printable scrapbooking supplies, designs and services, visit DesignerDigitals.com.
About DesignerDigitals:
DesignerDigitals.com, a subsidiary of Click Creative Group Inc., is a leading Internet-based digital scrapbooking e-tailer. Founded in 2005, DesignerDigitals.com provides high quality digital scrapbooking design products and supplies for consumers to use in the creative process of preserving their memories and creatively expressing their personal life stories. The Web site's offerings include eclectic inventories of digital scrapbooking layouts, scrapbooking paper design templates, computer scrapbooking kits, paper packs, elements, lesson packs and more.
###