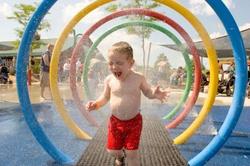 The program has always been strong
Destin, FL (PRWEB) July 24, 2008
Amenity Services Inc., the nation's leading provider of free-to-guest amenity programs, announces the launch of its newest website -- http://www.GetMoreVacations.com . The site directs travelers to properties in Northwest Florida, Coastal Alabama and North Carolina that provide guests with complimentary vacation activities that include championship golf, deep sea fishing, white water rafting, sunset cruises, wildlife tours and more.
The new, easy-to-use website allows guests to select from over 7,500 unique vacation rental properties based on their destination or desired activities. Guests can select from properties that provide a variety of complimentary activities each day of their vacation stay, providing much-needed savings to families feeling the fuel crunch this summer.
GetMoreVacations.com brings some of the industry's leading vacation rental management companies and premier service providers to guests looking to extend their vacation dollars.
"We have guests who come back year after year because of our FUNtastic Recreation Program," says Jeanne Dailey, owner and president of Newman-Dailey Resort Properties in Destin, Florida. "Once they understand that Dad or Mom can enjoy a round of golf while the kids enjoy the local water park -- and then all meet up for a dolphin cruise in the afternoon -- they're incredibly enthusiastic. This is all at no additional cost, included in their stay and available to them every day. It is a significant savings and having a variety of great things to choose from eliminates the stress of deciding what to do on vacation. The real question is how you will do it all!"
Providing guests with these complimentary activities is giving vacation rental properties a powerful edge over hotels, as four out of five vacationing guests prefer the 'home away from home' comfort provided at a vacation property to the often restrictive atmosphere of a hotel. Couple that with the best activities a destination has to offer -- included in the guests' stay -- and people have taken notice.
"The program has always been strong," says President and CEO of Amenity Services Inc/GetMoreVacations.com Darrell Blanton, "but so far this summer, we've been able to track an extraordinary amount of traffic to the new site and read posts from enthusiastic guests in online forums all over the web like TripAdvisor.com, FlipKey.com and WeJustGotBack.com. We have to smile as we watch new guests discover the program -- they're just astonished that these things are being provided for them to optimize their vacation experience. For many guests, the savings from the program allows them to come back for a three or four day mini-vacation. Instead of having to scale back their vacation plans, they can enjoy more than they even imagined possible. We love facilitating that."
###