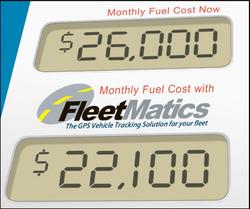 Over the course of the year, we expect to save close to $140,000 on fuel alone.
Wellesley Hills, MA (Vocus) July 23, 2008
Many fleets are taking drastic measures to survive the ongoing fuel crisis. Some are cutting back on administrative personnel, taking aging trucks off the road or even turning away business they deem less profitable.
Brenner Oil Company of Holland, Michigan, is taking a different approach. Instead of cutting back and hoping for the best, they invested to improve their efficiency and significantly reduce fuel costs. They achieved this via the FleetMatics GPS vehicle tracking system, which they installed on their fleet.
"In just our first seven months with the FleetMatics fleet management system, we saved over $90,000 in fuel costs through improved routing and reduced idling times," said Lisa Slade, Logistics Coordinator at Brenner Oil. "Over the course of the year, we expect to save close to $140,000 on fuel alone."
Competitive Challenges
Competition in the oil transportation business has perhaps never been tougher. Brenner Oil competes with a couple of big nationals with deep pockets. These outfits typically have enough reserves to sit out the tough times. They can even use an economic slowdown to start a price war and drive their smaller rivals out of business.
Brenner Oil may not have the coast-to-coast clout of the nationals, but it more than makes up for that with a tight local focus that dates all the way back to its roots. One year after the Wall Street Crash of 1929, Grandpa Brenner started Brenner Oil in the back of a pick-up truck hauling heating oil to nearby customers in buckets. Today, Brenner has 147 employees and continues to serve the local market – though it has now expanded to seven locations around western Michigan.
"It is tougher than ever doing business as the market has slowed considerably and the price of oil has rocketed," said Slade. "We differentiate ourselves from the major national competitors by delivering personalized local service that customers can always depend on."
The company operates 9 peddle trucks, 50 tractors, 50 tubes and numerous service and utility vehicles. On an average day, Brenner now hauls 1.3 million gallons of oil per day to residential and commercial customers along with a large number of farms and excavating contractors. In the past year, that amounted to over 440 million gallons hauled.
Three Ways to Reduce Fuel Costs
Brenner Oil understood that by investing in the right technology, it could reduce its overhead, improve dispatching efficiency and better customer service. But it didn't realize just how much. Once it installed FleetMatics in all its vehicles, it discovered that its initial calculations of savings had been greatly underestimated.
Vehicle idling, for example, was a big problem. Prior to implementing the GPS tracking system, the company had no way of knowing whether vehicles were idling or not. With FleetMatics installed, however, Slade could run a report in a few seconds that provided a detailed rundown for each driver of the amount of idling time.
"The idling report in FleetMatics is the one I use the most – I'm looking for anyone idling more than two hours per day," she said. "If anyone is violating that, the matter is brought up in the daily meeting."
As soon as idling began to be monitored, Brenner Oil used the information to educate its drivers concerning bad habits. Most were surprised by the amount of time consumed in idling. One major area of heavy idling, for instance, occurred when trucks would have to line up at a site. Drivers are now instructed to switch their vehicles off at such times. And as they know dispatch is watching, they comply. As a result of paying close attention to the idling report, the company has reduced idling times by 45 minutes per vehicle per day. This directly translates into a substantial fuel savings.
Another way the company has successfully slashed diesel consumption is through improved routing. According to Slade, it used to be impossible to determine if drivers took the most direct routes. Once FleetMatics was implemented, she was shocked to discover that many preferred the scenic route instead of the highway. This added up to around 20 minutes per day per driver, sometimes a lot more.
"Instead of going from A to C to D and then to B, we have drivers moving from A direct to B," said Slade. "This has saved us an average of 20 miles per vehicle per day through improved routing."
Speeding, too, is a sure route to inflated fuel bills. FleetMatics reports helped Brenner Oil to comprehensively address this issue. These are printed out with red flags to indicate any vehicle traveling more than 63 mph. This feature of the software highlighted the fact that some trucks either didn't have governors or they weren't set properly. The company engaged in a maintenance program to remedy this. Today, dispatchers can see at a glance which truck is speeding, how often and for how long. The system makes it easy to differentiate between someone traveling above 63 mph for two minutes as opposed to traveling at high speeds continuously.
"This speed monitoring feature of FleetMatics has really helped to slow the drivers down and consequently has contributed to our reduced fuel costs," said Slade. "Drivers know I watch their speed, and I even get some calling me up to ask how fast the system says they are going."
More Savings
While fuel is a major savings, Brenner Oil has benefited in several other ways. Slade reports greater ability to track driver time sheets using the FleetMatics Hours Worked report. A whole lot of drive and dispatcher paperwork has been eliminated, too, since moving off the previous manual paper-based system. This means fewer misplaced messages, greater efficiency, happier customers, and dispatchers who no longer have to come in early or burn the midnight oil to keep up.
Further savings relate to productivity and phone costs. Drivers don't have to waste time on paperwork between jobs. The FleetMatics messaging units save each driver about 20 minutes per day in administrative time. As everything is electronic, the company has experienced a 75 percent reduction in phone expenses. When this is factored in with fuel savings, Slade says that FleetMatics pays for itself more than tenfold.
"With fuel prices spiraling, it has been vital to our operational success to utilize FleetMatics to slash our diesel bills," said Slade. "We're currently saving about $17,000 per year per truck on fuel alone. That doesn't take into account all the other savings due to higher number of deliveries per day, lowered phone costs and more efficient routing."
###