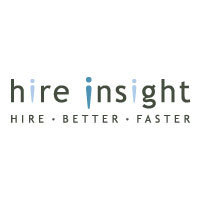 We then upload the most successful individuals to the database, usually only the top 15 percent, which clients can review when they have an immediate hiring need.
Calgary, AB (PRWEB) July 23, 2008
Most hiring managers have used online job boards when searching for their next employee. However, while these boards house many potential applicants, they do little to ensure that those represented have a high potential for success. The traditional focus has been on quantity over quality.
In response, the Hire Insight Group offers a solution in the form of Hire Insight Select, a budding database of pre-screened and pre-assessed candidates, all of whom are required to complete a rigorous series of tests, assessments, expert interviews and reference checks before being represented by the firm.
"We've basically taken our most efficient and effective candidate screening and assessment methods and combined them into a single program that quickly uncovers top talent within a group of job applicants," says Chad Hayward, Assessment Director for Hire Insight Group. "We then upload the most successful individuals to the database, usually only the top 15 percent, which clients can review when they have an immediate hiring need."
"As a result, selection decisions can be made almost immediately with full confidence in the chosen candidate's ability to perform," he adds.
Consultants at the firm realize that it will take time to build such a database of pre-assessed talent, particularly considering their strict evaluation standards, and are looking to partner with select employers to help them do so.
"We're offering partners a significant discount on the outsourced screening and assessment process, in exchange for their participation. All they have to do is provide us with a pool of applicants who are to be screened and assessed for their next hiring project, and we will provide them with reports on the past success and future potential of the very best within this group: those who have the expertise, intelligence, personality and motivation to be top performers in the target position."
Should employers wish to participate in the program, they simply need to contact a Hire Insight consultant to begin discussing the qualities that they are looking for in an ideal employee. Hire Insight will then supplement this information with their own competency research and, within a few days, develop the screening process, assessment methods, and evaluation reports that will help identify applicants with the greatest potential for success.
About Hire Insight
Hire Insight is a firm of assessment professionals that helps clients throughout North America identify candidates with a high potential for job success. Ultimately, selection decisions are made in a fraction of the average hiring time and with a much higher level of confidence in candidates' future performance than would be the case with traditional methods or other third-party agencies.
For more information, visit http://www.hireinsightselect.com.
Contact: Chad Hayward
Phone: (403) 698-5609
995 New Brighton Gdns SE
Calgary, AB T2Z 0A2
This press release was distributed through eMediawire by Human Resources Marketer (HR Marketer: http://www.HRmarketer.com) on behalf of the company listed above.
###