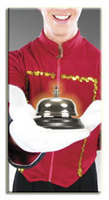 Glenhaven, CA (PRWEB) July 23, 2008
The Bell Desk and Valet Departments are nothing new to hotels, casinos and resorts, but being able to automatically track luggage and staff performance and intelligently and fairly allocate fronts is something new that Service Tracking Systems has perfected. BellDeskPro provides a software solution that manages all facets of any bell desk operation. BellDeskPro has interfaces in place or in development with many hotel management systems, making it easy to track luggage to guests.
Service Tracking Systems (STS) invented today's valet parking technology and patented the vehicle imaging application. Now, STS has applied their extensive knowledge and experience to luggage handling.
With growing popularity in high-traffic locations in Las Vegas (including Mandalay Bay, Monte Carlo, Paris, New York New York and soon to be deployed at the Wynn and Bellagio), and Atlantic City (The Borgata and The Water Club), BellDeskPro is quickly becoming the preferred tool for managing Bell Desk operations.
Jon Brockway, a technician with Service Tracking Systems, reports that
"One thing that all of our clients talk about is the fact that our system eliminates the paper chase when investigating a problem. If a Bell Captain needs details on a front that was run a year ago, he/she can pull them up in a matter of seconds. If there was a problem with a front that was ran last week (missing bag, etc.), this can be looked at without dumping an envelope full of paper on the desk labeled 7/10/07."
Because Service Tracking Systems is known to provide superior service to their clients, "clients trust that we can deliver a superior product. Our Computerized Valet Parking System (CVPS) has been a successful tool, not to mention a great return on investment to our clients due to claims reduction and automated revenue control. Our service and support plans provide our clients with the peace of mind that we are taking care of them," says Kai Schuette, Founder and CEO of Service Tracking Systems, Inc.
For additional information on BellDeskPro and our elite client locations, visit servicetrackingsystems.net.
###