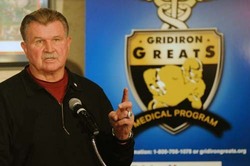 The medical issues many retired players face due to the game and the lack of post career healthcare or affordable insurance are both serious and significant
Allentown, PA (PRWEB) July 23, 2008
The Gridiron Greats Assistance Fund, a not-for-profit Section 501(c)(3) organization that provides assistance to retired NFL players in dire need, began implementation today of a groundbreaking medical program that will provide millions of dollars in donated medical care to former NFL players in dire need.
The program is expected to have a significant impact on the lives of many former NFL players who suffer due to their inability to care for their football-related injuries, secure affordable medical insurance, and the inadequate disability and pension plan provided by the NFLPA and NFL.
This unprecedented program is spearheaded by OAA Orthopedic Specialists in Allentown, PA. and encompasses other facilities around the country in locations such as Arizona and Illinois. Twenty facilities are expected to be part of the program by the end of this year.
Several retired NFL players were flown by the Gridiron Greats to the OAA facility this week to begin OAA's pro bono evaluations and medical testing. Over 50 players have applied to the program since its inception only two short months ago.
Among those who entered the program this week were former (Jacksonville Jaguar) Brian Demarco and former (Miami Dolphin) Mercury Morris. Both players suffer from debilitating football related injuries and have no health coverage or means to pay for the costly medical treatments they desperately need.
At a Gridiron Greats press conference today hosted by former Philadelphia Eagle Koy Detmer who works with "GGAF" organization, the players receiving care and medical specialists discussed post career disability issues that retired players face. Insights were also shared with regard to their first-hand experience with the new Gridiron Greats medical program.
"There has been talk among players for years about the insufficient medical plan for retired football players," said Detmer, a Vice President of Athlete Services for Triton Financial. "Today it moves from talk to action. It's great to have an organization like Gridiron Greats move the mission forward and have a facility like OAA provide medical services for retired players in need."
"The importance of having me and Brian DeMarco here," said Mercury Morris, "represents two generations of players - those who have recently retired with severe injuries and those who retired quite some time ago and have to deal with older injuries and advanced age. We can both benefit from the Gridiron Greats Medical Program, improved technology, superior facilities, and the generosity of the doctors. I am very fortunate that the doctors here at OAA have opened the doors to allow me to improve my quality of life."
Dr. Robert Palumbo and Vincent Hudson oversee the newly formed GGAF Medical Advisory Committee. Dr. Paulmbo is also a second-opinion physician for the NFLPA and has tremendous insights into the medical issues facing NFL Players.
"I know what goes on," said Dr. Palumbo about the needs of the players. "I played college football and I have empathy for these athletes. We doctors would just look at each other and say, 'What the hell? Why is it taking so long?' It's not hard."
"The medical issues many retired players face due to the game and the lack of post career healthcare or affordable insurance are both serious and significant," said Gridiron Greats Board Member Mike Ditka. "This has resulted in many players being forced into dire situations. There's been too much talk, in fact, and not enough action. We're pleased to get the program started today, and we are able to take action and get these guys the help they need, This would not have been possible without the generosity of these the medical specialists from OAA and the other facilities around the county."
"Both the administrations and physicians at these institutions understand the problem and wanted to offer their help. When they contacted us and we started putting this program together it was just amazing -- the level of compassion that these physicians have," said Jennifer Smith, Gridiron Greats Executive Director. "Because of their generosity, the lives of many retired players will be transformed and a quality of life restored."
The medical initiative is facilitated through the Gridiron Greats Assistance Fund. Retired NFL players can apply to the program by contacting the Gridiron Greats Administrative offices 1-800-708-1078 or visiting http://www.gridirongreats.org.
Media Contact
Jennifer Smith
gridirongreats24 @ aol.com
(920) 499-7133
###