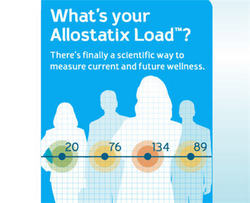 The common assumption is that employees with normal test levels and negative medical history are therefore
Cincinnati (PRWEB) July 23, 2008
Health informatics firm Allostatix LLC will host a webinar titled Predicting Future Wellness: Improving Employee Health and Cost Savings, on Wednesday, July 30 at 1-2 p.m. Eastern time.
A healthy workforce benefits employers with decreased absenteeism; happier, more productive employees; and better control over rising healthcare benefits costs. Yet most existing health risk assessments miss a critical segment of the employee population – those without visible indicators of illness who are on a negative health trajectory by their reaction to accumulating stress.
Gordon Horwitz, founder and chief executive officer of Cincinnati startup Allostatix, LLC, will discuss how this accumulated stress – a person's allostatic load – is a reliable predictor of health problems in the near future.
"The common assumption is that employees with normal test levels and negative medical history are therefore "healthy" and "low-risk," said Horwitz. "However, testing for the allostatic load provides a picture of "whole body health" – a much more accurate approach than self-reported health behaviors or isolated tests that do not provide a comprehensive picture of health."
This webinar examines how the daily stresses of life can build up over time and lead to expensive medical problems, and how a new test can actually predict future health status with over 80 percent accuracy. Participants will learn:

The concept and background of allostatic load
How stress affects overall health
What most health risk assessments miss
How predicting wellness can save an organization money
To sign up for the complementary webinar, visit http://www.hr.com/stories/1215803933168
About Allostatix, LLC.
Allostatix LLC is the creator of the Allostatix Load Test™, a scientific tool that measures the cumulative impact of daily life stresses on an individual's whole body health. The company's predictive measurement is conducted through a blood and biometric analysis and is based on 25 years of longitudinal medical research. Allostatix's Scientific Advisory Board consists of industry-leading research MDs and PhDs from UCLA, Rockefeller University, the University of Pittsburgh and the University of Cincinnati.
More information is available at http://www.allostatix.com or via e-mail at getanswers(at)allostatix.com.
Contact:
Gordon Horwitz
Allostatix, LLC
513-351-0368
Gail DeLano
Fisher Vista for Allostatix
gdelano(at)fishervista.com
831-685-9700
This press release was distributed through eMediawire by Human Resources Marketer (HR Marketer: http://www.HRmarketer.com) on behalf of the company
listed above.
###