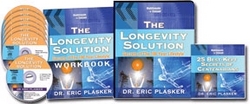 Niles, IL (PRWEB) July 29, 2008
The Longevity Solution: Secrets of The 100 Year Lifestyle is a total-life plan for increasing both the quality and quantity of years, improving and sustaining health, nurturing relationships and fostering financial growth. Based on Dr. Plasker's best-selling wellness system, this audio CD set reveals the secret to making the most of your extended lifespan. Listeners will learn to maximize vitality by minimizing crisis, create and prolong optimum energy, prevent disease the 100 Year Lifestyle way, get their E.S.S. (endurance, strength, structure) in shape, achieve financial freedom the 100 Year Lifestyle way and create individualized recipes for personal renewal.
A long, vibrant and fulfilling life doesn't happen by accident! People are living longer than ever before. In fact, centenarians -- people who live to 100 or older -- are one of the world's fastest growing segments of the population. Your parents and grandparents may have been blindsided by their longevity and suffered for it, but that doesn't have to happen to you. You can remain vibrant and vital, with great relationships, a reason to get up and plenty of money in the bank at 85, 90 and beyond. The Longevity Solution will empower you to achieve all of that, in a way that is simple, motivating and fun.
Your guide to The Longevity Solution, Dr. Eric Plasker, has spent the past two decades researching and probing the depths of human potential. This total life program is the culmination of his years of family practice, research and acting as a catalyst in helping people maximize the quality and quantity of their lives. This customizable program empowers listeners to:

Enhance the health, vitality and quality of life
Build a prosperous financial framework that will last for 100 years and beyond
Open the door to an abundance of new beginnings -- third, fourth, and even fifth acts
Create an everlasting network of friends and family
Achieve a sense of purpose and an inspiring reason to get up--no matter what the age
Aging can be a good thing -- the opportunity to realize all of your dreams and establish a remarkable legacy -- if you prepare for it. Easy and fun to use, The Longevity Solution provides everything you need to enjoy a sensational second half of your life. With Dr. Plasker's unique tools and strategies, you can create a customized plan to transform your life, fulfill your potential, and embrace your extended lifespan with a sense of opportunity.
About Dr. Eric Plasker
Bestselling author of The 100 Year Lifestyle, Dr. Eric Plasker inspires his patients and the public alike to realize "a long life, well-lived." Dr. Plasker is the founder of the Council on Family Wellness for the World Chiropractic Alliance. He has been interviewed by top print and broadcast media around the world including ABC News, Discovery Channel, CBS Radio, Health Magazine, TBS's "Movie And A Makeover", Family Circle, Woman's Health, Houston Chronicle, Dallas Morning News, Woman's World and dozens of radios shows.
Dr. Plasker has shared the stage with such luminaries as Dr. Wayne Dyer and Dr. Andrew Weil. He runs 11 workshops each year and speaks on numerous other platforms, appearing before 15,000 health care professionals around the world. In addition, he serves on Gold's Gym Fitness Institute, the world's leading think tank on health and fitness issues.
With his wellness messages and products reaching millions of people around the world, Dr. Plasker has sold more than half a million copies of his health and wellness guides, audiotapes, CDs, DVDs and related materials, which have been translated and distributed in more than fourteen countries. He lives with his family in Atlanta and is founder and CEO of The Family Practice.
About Nightingale-Conant
The Nightingale-Conant Corporation (http://www.nightingale.com) is the world's premier producer and publisher of personal development audio programs, resources and services. For nearly 50 years, their mission has been to connect growth-minded individuals with the tools and information they need to create a comprehensively successful life.
The products Nightingale-Conant offers cover a wide range of categories, including Motivation, Sales Training, Spiritual Growth, Health and Wellness, Debt Reduction, Financial Management, Wealth Building, Business Development, Entrepreneurship and more. The authors they publish are among the most highly esteemed, internationally-renowned experts in their fields, including Zig Ziglar, Dr. Wayne Dyer, Robert Kiyosaki, Deepak Chopra, Marianne Williamson and hundreds of others.
While audio programs remain the core element of their business, Nightingale-Conant has steadily expanded the scope of product offerings over the years. Today, in addition to audio, video, and multimedia programs by world-class authors, products and services also include personal coaching and mentoring programs, interactive online services and e-mail-based subscriptions.
The exceptional quality and extraordinary content of all Nightingale-Conant's products continue to set the industry standards for integrity, substance and commitment to excellence.
To learn more about The Longevity Solution visit: http://www.nightingale.com/Prod_Detail~product~Longevity_Solution.aspx
To learn more about Nightingale-Conant, visit: http://www.nightingale.com/
###