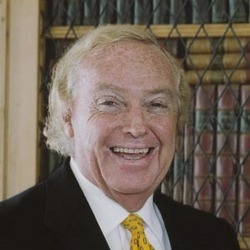 If industry leaders and insurance company executives don't show a little more gumption, backbone, creativity, innovation and leadership than they have a history of doing
Minneapolis MN (PRWEB) July 25, 2008 -
time role as CEO of Allianz North America 2002, but continues to be an outspoken business advocate for entrepreneurism, business management, and above all, the insurance industry.
Not familiar with Bob MacDonald? He's the California lad who rose from a door-to-door insurance salesman to the stewardship of three major insurance companies. He was president of ITT Life Insurance Co., and the founder of LifeUSA, which in 1999 he sold to Allianz SE for half a billion dollars. He retired in 2002 as chairman and CEO of Allianz Life of North America.
Since giving up the corner office at Allianz, though, MacDonald has been as busy and as outspoken as ever. He sits on the board of several major corporations and heads CTW Consulting, LLC, a vehicle for offering his decades of experience and unique approach to management, marketing and corporate culture development.
He's written popular business books (Cheat To Win: The Honest Way to Break All the Dishonest Rules of Business, Paradon Publishing, 2005; and Beat The System: 11 Secrets to Creating an Entreprenurial Culture in a Bureaucratic World, John Wiley & Sons, 2007).
But his new pulpit at Bobmaconbusiness.com draws thousands of visitors with his often irreverent opinions and useful tips and strategies in blogs and podcasts to help entrepreneurs, business managers and business leaders see the wisdom of his contrarian view.
The target of his criticisms? You name it. In one blog he skewered NBC's Dateline and Minnesota Attorney General Lori Swanson for their attack on the annuities industry. Not surprisingly he saved his most pointed barbs at leaders of the insurance industry.
"As deceptive and dishonest as the Dateline show was," said MacDonald, "their actions paled in comparison to the gutless and cowardly timidity of insurance company executives. Even though Dateline said they were invited, not one single insurance company executive had the guts to come on the show to defend their products and the thousands of honest agents who sell the products properly."
He dished out more of the same when the Securities & Exchange Commission recently announced its intent to propose a rule (151A) that would classify many of the annuity products issued by insurance companies as investments. "If industry leaders and insurance company executives don't show a little more gumption, backbone, creativity, innovation and leadership than they have a history of doing," blogged MacDonald in a scathing review, "then the worst of all results could happen."
Still a Maverick after All of These Years
It's typical MacDonald. When he was president and CEO of ITT Life Insurance Corp., he became one of the best known, most influential and controversial leaders in the life insurance industry, flamboyant in an industry in which flamboyance is rare and usually unrewarded. The New York Times, for example, labeled him as "an innovator and unrepentant bad boy in the go-along-to-get-along insurance."
In the early 1980s, as president of ITT Life Insurance, he launched a public campaign against his own industry's most popular family of policies ─ whole life. He had the bad taste to publicly proclaim what everybody knew: Whole life insurance had ceased to be a good consumer product. But MacDonald went further, charging the insurance industry with being "ossified, petrified, myopic and inbred." In response, he was vilified by his peers. The pundits notwithstanding, his "Your Whole Life is a Mistake" advertising and publicity campaign was a major success and propelled the company to unparalleled success.
With a 40+-year career in the financial services industry, MacDonald is often noted in the media as a visionary and well-known business maverick, who has "earned a reputation as a business contrarian who rewrote the rules of business and corporate culture."
But MacDonald is not a bull-headed contrarian for the sake of rubbing the establishment the wrong way. He may seem to zig when accepted business principles zag, but brand of iconoclasm really works. He advocates unerringly ethical behavior; doing what's right, not what's easy.
In this day and age of corporate malfeasance and shoddy business morals, MacDonald continues to be one of the few active voices for true entrepreneurism and ethical business management: independent, outspoken, and always quotable.
###