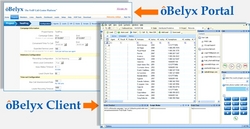 We needed a quick, easy-to-use, easy-to-manage call center system to support operations for multiple outbound campaigns. We turned to 3CLogic for software features, leads management, and analytics to get our campaigns operational in a matter of days
Rockville, MD (PRWEB) July 24, 2008
3CLogic, the leader in deploying Contact Center SaaS announced today that KCG Call Centers has launched multiple outbound campaigns using the ôBelyx service. Without adding any new hardware or software and without disrupting their current operations, KCG Call Centers launched multiple campaigns using the ôBelyx service in record time.
"We needed a quick, easy-to-use, easy-to-manage call center system to support operations for multiple outbound campaigns. We turned to 3CLogic for software features, leads management, and analytics to get our campaigns operational in a matter of days," said Kathy Kavanaugh, VP Operations of KCG Call Centers. "Using the ôBelyx service from 3CLogic enabled us to execute several campaigns that produced win backs and generated revenue. And we instantly measured agent performance using ôBelyx's dashboard."
ôBelyx, The VoIP Call Center Platform™ from 3CLogic is a complete customer interaction solution for businesses, associations, educational institutions, and government agencies. This dynamic, online software provides the tools necessary to bring up a state of the art contact center in a matter of days.
"ôBelyx leverages 3CLogic's Telephony Application Grid technology (TAG) to bring unprecedented flexibility and service velocity to call centers such as KCG. We are very excited to work with the KCG team. They truly understand the value of using contact center SaaS, and we are delighted that they are leveraging the power of TAG to drive their business goals," stated Raj Sharma, President and CEO of 3CLogic.
ôBelyx, The VoIP Call Center Platform™, enables companies to build a comprehensive, feature-rich contact center without any hardware, software, or upfront capital expenditures. ôBelyx allows for easy set-up and administration at single-site or distributed, multi-site centers including home workers. Built from the ground up with VoIP, any business with a PC and a broadband connection can access an affordable suite of outbound campaign applications.
About 3CLogic, Inc.
3CLogic Inc., a privately held corporation based in Rockville, Maryland, is the provider of ôBelyx, the first VoIP Call Center platform based on Telephony Applications Grid (TAG). Based on TAG, ôBelyx achieves major performance gains over traditional client-server approaches. ôBelyx provides power, auto and predictive dialing that is completely software-based, includes outbound IVR, and runs over the Internet. Integrated with comprehensive performance tools, ôBelyx lets subscribers analyze campaign and agent performance for greater efficiency gains and business productivity. A simple user interface makes adoption easy by agents and administrators alike. As a Software-as-a-Service (SaaS) provider, 3CLogic delivers solutions over the Internet using a secure, scalable application and system architecture, which allows our customers to eliminate expensive up-front hardware and software costs and to quickly deploy and adopt our on-demand software. For more information about 3CLogic please visit http://www.3CLogic.com or call 240-454-6347.
About KCG Call Centers
KCG Call Centers is based in Pennington Gap, VA and provides outbound telemarketing as well as inbound customer support services to a wide range of clients. For more information, please visit: http://www.kcgcallcenters.com or call +1 888-305-9144.
Contact:
Aditya Bhatnagar, Director of Product Management and Marketing
3CLogic, Inc.
240-454-6347
http://www.3clogic.com
###