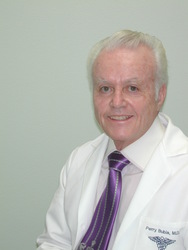 Primary vein problems are the most common and often follow a family genetic tendency. Secondary vein disease can result from many types of injuries to the legs, and, once corrected, it never recurs unless the leg is re-injured.
Los Angeles, CA (PRWEB) July 29, 2008
"WISH I KNEW THAT: All You Need to Know About Veins Before You See Your Doctor" (http://www.wishiknewthat.info), written by Dr. Perry R. Bubis, a surgeon with 35 years' experience in vein therapy and surgery, is an informative, easy-to-understand guide for anyone contemplating treatment of unwanted or unhealthy veins. It offers sound suggestions on how to maintain vein health and prevent vein problems, as well as providing comprehensive information about choosing doctors who are experienced in using the most effective procedures.
The book also details the results patients can expect from various treatments, what the potential complications are, new non-debilitating vein treatments, how to effectively get insurance company reimbursement and what steps to take if initially turned down. In addition, it tells readers what to look for in the fine print of their insurance policy before they buy it. "WISH I KNEW THAT" teaches people how to prevent vein disease and/or lessen the chance of recurrence and what to do when they are having problems. It tells women who decide to become pregnant exactly what to do to keep their legs healthy. In the final chapter, Dr. Bubis, who practiced medicine in Canada for several years, discusses the pros and cons of that country's Single-Payer Universal Health Insurance program, illustrating first-hand stories of what can happen when government controls healthcare.
"More than 80% of women will develop vein disease at some time in their lives," Dr. Bubis points out. "Primary vein problems are the most common and often follow a family genetic tendency. Secondary vein disease can result from many types of injuries to the legs, and, once corrected, it never recurs unless the leg is re-injured."
Vein disease is usually caused by prolonged standing, crossing one's knees for excessive periods of time, taking hormones, pregnancy, trauma, infection, sunburn and/or scratching. Phlebitis - an acute inflammation of veins - if untreated, can lead to clot formation, which in turn can result in a potentially fatal pulmonary embolism. Signs of vein disease include: pain, swelling, skin rash, leg restlessness, skin ulcers, spontaneous bleeding, dark brown skin discoloration on lower legs, itchiness, burning, heaviness and a sensation of ants running up and down one's legs.
Dr. Bubis explains, "Some years ago, vein stripping (removal) was the commonest treatment practiced by many doctors, but over time newer treatments were devised that took into account the most recent knowledge. Along with improved equipment and supplies, they allow a surgeon to repair the vein problem without having to remove the vein. High surgical ligation, followed by sclerotherapy (controlled wound healing) is the procedure of choice."
According to the doctor, "This therapy can be performed painlessly in the office, without the patient having to miss days of work or stop desired activities, and, happily, we can now restore a leg to its best appearance without scarring."
"WISH I KNEW THAT" offers eight practical suggestions to prevent vein woes:
1. Keep excessive body fat way down, since it can increase the venous pressure in your legs.
2. Never stand motionless; always move your leg muscles.
3. Don't cross your knees for more than 10 minutes at a time.
4. Elevate your legs whenever possible. When on an airplane, get up every hour and walk around. Wear your compression hose on airplanes. Take a baby aspirin when the flight is longer than five hours. Always consult with your doctor before doing so.
5. Sleep on your left side when pregnant, particularly after the fifth month.
6. Do not use anti-inflammatory drugs during sclerotherapy sessions.
7. Take Vitamin C to minimize bruising and promote rapid healing.
8. Prevent all types of injuries to your legs and skin.
"This is not a complicated medical procedure," Dr. Bubis says. "My book gives the reader the power to choose intelligently and explains what to look for, when to seek a doctor and which vein treatments are the most effective. It is fun and easy to read, as I have included some amusing stories from my practice."
About Author Dr. Perry R. Bubis:
Dr. Bubis graduated from the University of Manitoba with an M.D. degree. He interned at the Los Angeles County General Hospital and did subsequent postgraduate studies in general and vascular surgery with the University of Minnesota and the Tucson Hospitals Medical Education programs. Following his residency, he went into the private practice of surgery in Glendale, CA. He was involved in the trauma centers of Hollywood Presbyterian and St. Joseph Hospital in Burbank, CA. He performed surgical charity work in Israel following the Six-Day War of 1967. During the past 35 years, he developed a specialized practice for the treatment of vein diseases. He is also known to have pioneered techniques used today for the treatment of unwanted and varicose veins. Currently he practices in both Fresno and Thousand Oaks, CA.
About "Wish I Knew That"
PUBLISHED BY PUBLISHAMERICA, LLLP; http://www.publishamerica.com
ISBN: 1-60474-671-8; 81 pages; soft cover; $14.95
Available at: amazon.com, publishamerica.com, wishiknewthat.info and major booksellers.
###