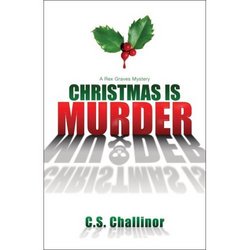 Whatever the rights or wrongs of the war in Iraq, young men and women in the military are risking life and limb for their country and for their brothers and sisters-in-arms
Pasadena, CA (PRWEB) July 24, 2008
Author C.S. Challinor will be donating 15 percent of her royalties from the upcoming book "Christmas is Murder" to Soldiers' Angels for use in supporting the war wounded who have served in Afghanistan and Iraq.
"Whatever the rights or wrongs of the war in Iraq, young men and women in the military are risking life and limb for their country and for their brothers and sisters-in-arms," Challinor said. "The average age of wounded veterans is 23 years old. That's only a few years older than my own son."
Soldiers' Angels is a non-profit military support organization offering a wide range of physical and emotional support to deployed military, the wounded and their families.
"We are honored to receive Caroline's pledge," said Patti Patton Bader, founder of Soldiers' Angels and mother of two Iraq veterans. It is great companies and people like this who help us make a huge difference in our heroes' lives. These small ripples of kindness turn into oceans of greatness. Thank you from my heart."
An Agatha Christie-style mystery, Christmas is Murder tells the story of eight guests snowbound in a secluded English hotel. First a disabled WWII veteran dies of poisoning. Soon, others meet untimely death in this first of Challinor's "Rex Graves" series. Kirkus Reviews describes this debut novel as "a pleasant modern knockoff of Christie", while Rick Miller, host of ABC's primetime hit series "Just for Laughs" says "Challinor writes with wit and cheek, and with Rex Graves she has created a thoroughly charming sleuth."
Christmas is Murder, from Midnight Ink Books, is now available for order at BarnesandNoble.com, Target Stores, and at most bookstores. For more information, please visit C.S. Challinor on Midnight Ink Books at http://www.midnightinkbooks.com.
Soldiers' Angels is a volunteer-based 501(c)(3) non-profit organization providing aid and comfort to the men and women of the United States Army, Marines, Navy, Air Force and Coast Guard and their families. For more information, see http://www.soldiersangels.org or call 626-529-5114.
###