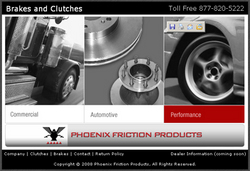 At Phoenix Friction, we offer great quality products and value through factory engineered clutch and brake part solutions
Middlesex, NJ (PRWEB) July 24, 2008
Phoenix Friction, the specialists in performance clutches and replacement clutches, takes their product offerings online with a new website located at PhoenixFriction.com. The new website allows the New Jersey-based Company to work with both current and potential customers both across the nation and worldwide.
The new website makes Phoenix Friction's premier products available online for the first time. For customers looking for the same type of products used by some of the largest fleets in the U.S., this news is very exciting.
Some of those products include over 1,300 new clutch kits in Phoenix Friction's Automotive & Light Truck Clutch Catalog, and the catalog contains listings from the 1950s to the present. Phoenix Friction also stocks standard and dual mass flywheels, clutch hydraulics, forks, cables, and other performance and replacement clutches, parts, and tools. Customers looking for friction products that fit Chevy, Dodge, Ford, GMC, and import vehicles can now find them all in one location and one company.
Phoenix Friction also offers disc brake products made from the finest materials available that are made at ISO9002 manufacturing facilities. Their brake pads have lower resin content, follow OE configurations, and over 99% are integrally molded with friction material formulations that deliver ultra smooth braking, long rotor life, long pad life, quiet performance, low dusting, fade resistance, and quick recovery.
"At Phoenix Friction, we offer great quality products and value through factory engineered clutch and brake part solutions," says William M. Sanders, Vice President of Phoenix Friction. "Our mission is to become the premier one-stop shopping source for the finest in clutch and brake products, and this website is part of that effort."
Some of the other great brands that Phoenix Friction provides are Aimco, Aisin, Dayton, Eaton Fuller, Daikin, Dexter, Exedy, NTN-BCA, Sachs, Setco-Lipe, SKF, and Valeo.
"Phoenix Friction brings back the driving experience," says Gail Sharp, former open wheel racing engineer. Now, customers outside of the Northeast corridor can have the same driving experience by purchasing Phoenix Friction's products over the internet.
Phoenix Friction believes that they have earned their stripes in the industry by producing better products to solve specific clutch and brake problems for a wide range of companies. For more information, or to compare Phoenix Friction to other clutch distributors, visit PhoenixFriction.com.
About Phoenix Friction Products, Inc.:
Phoenix Friction Products is a technology-driven manufacturer and supplier of clutch and brake products to OE manufacturers and the automotive aftermarket. Our extensive friction product experience allows us to provide customized use-specific applications. We offer strong technical support to help our customers succeed in the marketplace and our engineering staff is readily available to assist in the design of new OE applications.
###