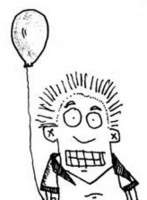 It's a huge improvement. We're having fun and growing fast.
Los Angeles, CA (PRWEB) July 25, 2008
TheNervousBreakdown.com, a hip online literary publication featuring writers from around the world, launched a new design this week (http://www.thenervousbreakdown.com).
Founded by bestselling novelist Brad Listi ('Attention. Deficit. Disorder.'), The Nervous Breakdown is home to a vast array of authors, including Jonathan Evison, whose critically acclaimed novel 'All About Lulu' has just been published by Soft Skull Press, Noria Jablonski, author of the critically acclaimed story collection 'Human Oddities,' and Danielle Trussoni, whose memoir 'Falling Through the Earth' was chosen as one of the Ten Best Books of 2006 by the New York Times.
"The new design offers readers much better aesthetics and vastly improved navigability," says Listi. "It's a huge improvement. We're having fun and growing fast."
With more than 65 distinguished writers on the roll--and counting--The Nervous Breakdown is one of the biggest lit-blog sites on the Web. Writers for the site are able to promote their work utilizing Web 2.0 technology, combining forces with other writers to help broaden their collective audience.
As such, TheNervousBreakdown.com is now at the forefront of a growing trend in book marketing and PR, providing a substantial platform for writers who aim to use the Internet to build their readerships effectively and generate publishing buzz.
Written content on TheNervousBreakdown.com is a broad assortment of creative nonfiction: interviews, reviews, gonzo journalism, humor pieces, political commentary, personal essays, book excerpts, and so on.
The new design also includes TNB TV, a daily video feed featuring book trailers, book news, author performances, reader-generated video, and various clips and minutiae culled from the depths of the Web.
Other contributors to the The Nervous Breakdown include Los Angeles poet and musician Rich Ferguson, Michener Copernicus prize-winner Alexander Chee, whose novel 'Edinburgh' (Picador, 2002) was chosen as a Publisher's Weekly Best Book of the Year, and Kiara Brinkman, whose debut novel 'Up High in the Trees' was hailed by Dave Eggers as "a very moving and perfectly convincing portrait of an unusual little boy...humane and uncompromising."
###