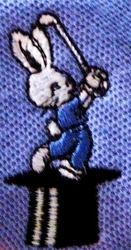 Put A Little Magic In Your Game
Mashpee, MA (PRWEB) July 28, 2008
For some life is good… but for a select few Life is magic!! "That was magic," has been a common catchphrase among golfers and others in the sports world when an admirably pure "winning" golf shot has been hit. "When you're in the moment and see it happening, you have to give credit where it's due, and 'magic' tops the list of compliments," states Rick Coleman, PGA of America Member and Entrepreneur.
For over 20 years Rick Coleman has heard this phrase of admiration on the links. He first heard "That was magic" from his European teammates during his formidable years on his Florida college golf team. Today, "That was magic" continues to be a part of our popular vernacular, inevitably used by notable sports announcers during televised tournaments.
PUT A LITTLE MAGIC IN YOUR GAME
Since 1998, Coleman's Magic Wear® apparel, has embraced this "That was magic" adage as inspiration for an exciting line of sports clothing. Originating during his tenure on Cape Cod, Magic Wear® apparel displays a unique logo "Magic" …our favorite rabbit, standing on a top hat swinging a golf club. A wearer of Magic Wear® apparel golf shirts has the opportunity to select the tag line, "Put A Little Magic In Your Game," on the tag of their Magic Wear® apparel shirt. Magic Wear apparel offers a variety of classic looking sportswear available for men, women, and youth. Your family will enjoy wearing Magic Wear® apparel complete line of classic quality and care-free golf shirts, t-shirts and hats.
Coleman hit the ground running with sales and marketing when the Magic Wear® apparel trademark was first approved in the Commonwealth of Massachusetts. Like so many other entrepreneurs who experience a set back or two before realizing success, Coleman's Magic Wear® apparel federal trademark was challenged by the Orlando Magic NBA basketball team. Shortly thereafter, Magic Wear® apparel rose victorious over their opposition. Today, golfer's from around the world who proudly wear Magic Wear® apparel quality classic golf clothing apparel will surely experience that certain magic that comes from wearing Magic Wear® apparel clothing.
Life Is Magic
Like many young golfers, Coleman, first became interested in the golf game when he caddied for his father. Spending his formative years in Massachusetts the Coleman family summered one of the most picturesque peninsulas in the United States, Cape Cod. It was at the oceanside village of New Seabury, where 18 of the 36 holes of golf overlook Nantucket Sound, where Coleman honed his golf skills and developed his love for this lifestyle by the sea.
Attending college in Boca Raton, Florida offered Coleman the opportunity to play golf year-round. After college, it was no surprise when Coleman found himself back at the Country Club of New Seabury where he began his golf career as an Assistant Golf Professional. Today Rick Coleman is the Director of Golf Instruction at the Country Club of New Seabury.
Coleman believes in giving back to his community. "Over the years, I have met a lot of extraordinary and interesting people through my association with the game of golf," states Coleman. Magic Wear® apparel has an ongoing partnership with local organizations such as the Cape Cod Boys & Girls Club and the Mashpee Police Association.
Over the years Coleman has developed one of his local relationships into a friendship with Hollywood producer/directors Bobby and Peter Farrelly. The Farrelly Brothers and their family, have close ties to the New Seabury community and gave Coleman his first acting part as a prison guard in their movie, Something About Mary. Coleman appears in a scene from the Farrelly Brother's movie The Heartbreak Kid staring Ben Stiller. Viewers of these movies should keep a keen eye out for the Magic Wear® logo as Magic Wear® clothing apparel also appears in the movie as well! Coleman admits, it's been great fun, "but I won't be leaving the golf business anytime soon!"
For more information, visit http://www.magicwearapparel.com
Magic Wear® Apparel
PO Box 2748 • Mashpee, MA 02649
508-878-3437 Ï magicman13 @ verizon.net
###