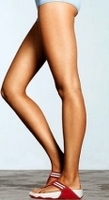 ..the Flip Flop with the Gym built in
Norwich, Norfolk (PRWEB) July 26, 2008
It's official. Fit Flops are taking this Summer by storm. With HitWise reporting a steady increase in searches and website traffic this season. This kind of data would indicate strong sales - which is something The Fit Flop has delivered on, with reports surfacing they have recently broken 1,000,000 sales.
For those of you who haven't encountered them yet, Fit Flops are a new type of the classic Flip Flop, with the added addition of giving you a mini-workout as you walk. The great thing is, unlike sweating at a gym, you can the benefit of toning up without sacrificing comfort or style!
Fit Flop describe their product as "..the Flip Flop with the Gym built in", a claim which has been contested by some; perhaps rightly so. Even for the layman, it is an obvious conclusion that a shoe cannot replace a full gym workout, however reading through actual customer reviews of Fit Flops, you can see that they have had excellent feedback with people reporting a noticeable difference in the toning of their calves.
So how do Fit Flops Work?
1. The magic behind Fit Flops is a rather crazy technology called micro-wobbleboard. If you can get your head around it, it's essentially changes the density of EVA under your feet as you walk, meaning you have to use your feet and leg muscles more.
2. They work out hard to reach muscles. Research has shown that the multi-density midsole triggers increased gluteal muscle response, increase hamstring response, increased rectus femoris (that's your thigh) response and increased calf muscle response.
3. Every time you go for a little walk, you're working on the tone and trim of those pins. The midsole extends the amount of time that the slow twitch (they're the muscles that produce energy by converting fat) by around 11%.
4. Staying trim has never been easier. Fit Flops have been clinically proven to work your gluteus maximus (posh word for "bum") every single step.
5. Fit Flops help tone your thighs. Your thigh muscles (specifically the rectus femoris muscle we mentioned earlier), gets a better work out than walking bare foot or in normal shoes.
6. They can actually help relieve back pain. According to a study from the University of Salford in Manchester, while wearing Fit Flops, your gait is very similar to as if you were bare foot, however joint strain and shock absorption from your feet hitting the ground is reduced. Several Fit Flop users have reported relief in just days.
7. It's an easier way to stay in shape! Your workout can be incorporated with your life without hassle. Just kick on your Fit Flops and get on with your life while enjoying the comfort of a passive workout!
It would be overly critical to call Fit Flops a fad, as they do seem to have some positive benefits, albeit when mixed with other aspects of a healthy lifestyle. So, even if they're not the sexiest kicks on the block, they are guaranteed good sales for at least the near future.
###