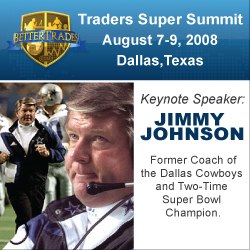 Dallas, TX (PRWEB) July 26, 2008
BetterTrades has released the dates for its first ever and most comprehensive annual stock market trading event, Traders Super Summit, to be held in Dallas, Texas, August 7 - 9, 2008.
Former Dallas Cowboys Coach and two-time Super Bowl Champion, Jimmy Johnson, will be keynoter. Jimmy is a recent graduate of Market Essentials Workshop, BetterTrades' intense first two-day training venue. He will discuss stock market trading in relation to winning at football in his inspirational message.
The Traders Super Summit, hosted by BetterTrades' founder, Freddie Rick, brings all of the company's top instructors to a common platform where they present trading strategies and investment ideas to the assembled audience. Among the distinguished faculty listed on the roster are Bob Eldridge, Darlene Nelson Powell, Markay Latimer, Ryan Litchfield, and John White.
Over the course of this exciting three-day event, audience members will be taught stock trading methodologies for improved performance when investing in the stock market. Additionally, one-on-one interaction with the BetterTrades faculty will be promoted, allowing new as well as seasoned traders to hone their trading skills and gain specific, pertinent information.
To access further details about the Traders Super Summit and the company instructors, please visit BetterTrades.
To register for this exciting event, please call BetterTrades at 1-800-940-5231.
###