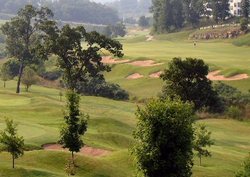 Branson, MO (PRWEB) July 25, 2008 -
This weekend make plans to attend the "Wild Hogs" Roast and Appreciation Golf Tournament, being held to honor long time Branson area doctors and to raise funds for the Skaggs Foundation. Drs. Pat O'Brien, Lynn Shaffer and Charles Spears are being honored with a Roast and golf tournament for their long time area service. Come celebrate with laughter, food and fun all while helping the Branson area keep the high level of health care it has become known for.
The Roast will be held Sunday, July 27th at 3:00 at the Pierce Arrow Theater where guests can expect to be entertained by the Pierce Arrow entertainers as they help thank the honorees. Hors d'oeuvres donated by area restaurants will also be provided. Tickets are available in advance or at the door, $10 or your generous donation.
Monday, July 28th the festivities continue at Thousand Hills Golf Course. There golfers are encouraged to sign up for a 4 person scramble tournament. Included in the tournament are lunch, awards, hole-in-one prizes, The Birdie Girls and more for a great day of fun for a good cause.
The golf scramble is $500 per 4 person team. All net proceeds from the Roast and Golf Tournament will go toward the Skaggs Foundation. The Skaggs Foundation is dedicated to helping facilitate relationships and financial resources for the Skaggs Community Health Center in order to support healthcare programs, projects and services to provide greater health and wellness to all Branson area residents and visitors.
Don't miss this opportunity to thank Drs. O'Brien, Shaffer and Spears for their dedication to the community and to help support the Skaggs Foundation in their quest to continue providing top of the line health care to the Branson area. For roast or tournament questions contact Cliff Easum at the Thousand Hills Golf Shop, 417-334-4553.
###