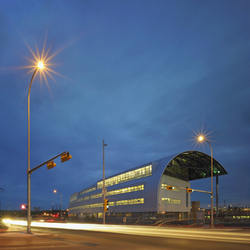 Spark Awards encourages everyone to create designs that make a difference
New York, NY (PRWEB) July 25, 2008
Green Design talent gets top billing this summer as the 2008 Spark Awards invite final entries for its second year. A prestigious judging team will assess industry innovations in sustainable products, process, architecture and other design media.
The global competition closes in August, but a new, simplified entry system helps firms and individual designers submit last-minute designs from their portfolio, with less paperwork, at http://www.sparkawards.com. Entry discounts apply until August 1, and the final Spark entry deadline is August 25, 2008.
"The critical design challenge of this century is to create offerings that inspire, engage and connect to people and that are more sustainable. Making sustainability desirable is crucial to generate cascading positive impact" says Ted Howes, sustainability lead at IDEO and a Spark judge. "Spark will showcase the very best."
During his career Howes has led the assessment, design and implementation of many sustainability programs, including Starbuck's much-lauded sustainable green coffee sourcing program, C.A.F.E. Practices. He is one of a prestigious line-up of 20 multi-disciplinary judges that includes Tania Aldous, director of global design at Whirlpool, Allison Arieff, "By Design" columnist at the New York Times, author and producer Chee Perlman and John Hoke, VP Global Footware at Converse.
"Spark Awards encourages everyone to create designs that make a difference," explains Spark Advisory Council member Sam Lucente, VP design, Hewlett-Packard. "As a society we face unprecedented challenges related to resources, environment and technology considerations, amidst strong competition for the attention of consumers. We need every person to embrace design and make things better. Spark showcases the work of the best designers and enlightened companies behind them."
Returning for its second year, Spark is the exciting competition created to promote great design and designers. Everyone is invited to participate: designers, art directors, architects, design firms, manufacturers, institutions, ad agencies, students and novices may enter and enjoy the Spark Design Awards.
Great Designers Solving Our Greatest Problems
"Spark is a fresh, modern qualification system that recognizes new processes and technology and seeks to involve people and ideas from untapped sources," explains Peter Kuchnicki, executive director of Spark. "Designers from all levels and skill-sets are welcome, be they professional, novice or student."
Simple Entry Process
The first phase for the competition requires designers to submit their work online with a brief mission statement. The deadline is August 1, 2008 (late deadline: August 25). A panel, consisting of VIP design jurors, will review the online submissions and decide who will move on to the second phase as Spark "Challengers."
Designers whose work qualifies have the option to enter the second phase. The deadline to enter is Sept.1, with the physical piece or model for the jurors to review.
Unique Events
All entrants are invited to attend both the September Spark Pre-Jury Conference (no charge to current or past entrants) held in the Jury Rooms, and the October 2008 Spark Award Celebration, where winners will be announced and displayed. Winners of Phase II will be awarded either a prestigious Silver Spark, Gold Spark, or ultimate Spark!award. All winners will be on long-term exhibition at the new Autodesk Design Center in San Francisco.
The Autodesk Design Center showcases innovative and important designs from around the world. The center highlights how the pieces are created, from design to engineering to completion. It offers the public and professionals an enriched design environment, maximizes design creativity, increases collaboration across design disciplines, and facilitates innovation.
The Spark Awards sponsors and partners include Hewlett Packard, Autodesk, Automobile Magazine, RedClay Interactive, Bravo Media, Joie de Vivre Hotels, California Magazine, ArchNewsNow and http://www.archinect.com.
For more information on the Spark Awards and other related information, please visit their website http://www.sparkawards.com.
# # #