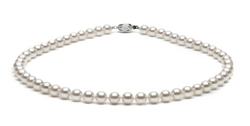 we always encourage people to have our pearls evaluated by an independent appraiser. No one has to take our word for it.
Los Angeles, CA (PRWEB) July 28, 2008
Animal rescue nonprofit organizations have a friend in Jeremy Shepherd. The owner of the world's largest online pearl company admires the work of animal rescue organizations so much he has pledged to give away more than $1 million in pearls for exclusive use in nonprofit silent and live auction fundraisers.
Shepherd says he is standing by, ready and waiting to hear from qualified animal rescue organizations everywhere. "We call it our Giving-Back program and it is a serious philanthropic effort," he says. "Every strand donated to animal rescue charity auctions is full of stunning freshwater pearls or akoya pearl beauties.
An animal lover who shares his own home with two dogs and three rabbits, Shepherd says he derives tremendous personal satisfaction from knowing that his pearls are contributing to the fight against animal overpopulation and cruelty. "When I learned that 4 to 6 million homeless and unwanted animals are euthanized every year, I decided to do something about it. We've devised a simple process for any animal rescue organization with a 501(c) (3) IRS status to apply."
So, what does it take for animal rescue organizations to qualify for PearlParadise.com pearls? "Just go to our website and fill out the questionnaire," says Shepherd. "The information about the Giving-Back Program can be found at the bottom of the home page. We'll review your application and get back with you quickly." Shepherd says the two major requirements are:

Be a 501(c) (3) organization
Have your auction/fundraising event scheduled within three months of the application date
PearlParadise.com limits organizations to one string of pearls per event and one per organization or per chapter.
"The freshwater or akoya pearl strands we donate are valued between $500-$2,000," says Shepherd. "Our pearls are the identical quality sold by high-end jewelry stores in the Tiffany category. In fact," he says, "we always encourage people to have our pearls evaluated by an independent appraiser. No one has to take our word for it."
How can Shepherd afford to donate $1 million in pearl jewelry to animal rescue organizations?
"We've cut out every middleman between the Chinese pearl farmer and the salesman who works on commission at the jewelry store." He says he can do this because he owns his own akoya pearl farm and speaks the Mandarin dialect. He oversees the operation with monthly trips to China. "I never return with fewer than 70 pounds of pearls in my arms."
Shepherd's innovative business model has attracted major media attention in such publications as:

"The New York Times"
"Newsweek"
"Inc"
"Investors Business Daily"
"InStyle"
"Modern Bride"
"Just the other day I heard about an animal rescue operation in Texas where authorities seized more than 50 dogs from a cruel, inhumane environment. If the animal rescue group that spearheaded the raid is having a fundraising auction anytime soon," says Shepherd, "I hope they contact us. We like what they're doing and we want to help."
For more information about the Giving-Back Program and how it benefits animal rescue organizations all over the U.S., visit http://www.pearlparadise.com or call 310-474-8788.
# # #