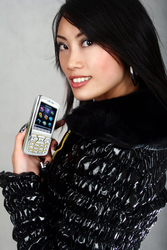 It plays music movies, radio and TV stations -- This phone is the complete multimedia package
Shenzhen, Guangdong (PRWEB) July 28, 2008
The problem with most brand name multimedia mobile phones is that too many of their functions are locked to one system or one service provider. A provider of Wholesale mobile phones Chinavasion is offering a solution to the problem with their new big screen TV phone, the latest in multimedia phone technology.
When you talk brand name multimedia phones so many of their functions are locked away. You're forced to pay extra to use the network provider you want and you can't put digital music and movies you want on because they're not the right format.
According to Chinavasion PR Manager, Rose Li, if asked, most US cell phone users would want to be able to choose which provider they signed up with by themselves and not have phone makers dictate which ones they had to use.
"Personal freedom is the reason people use cell phones in the first place so it's no good if it's locked to one provider at the time of purchase," said Rose Li. "This is why unlocked and jailbreak phones are so popular."
It is for this reason Chinavasion has released the big screen TV phone with dual SIM. It wanted to give consumers wholesale mobile phones which didn't only let them choose which network provider they used, but also the digital format of songs and movies they put on their phone.
According to Rose Li the big screen TV phone really excels at playing songs and movies in the same digital format without any form of conversion.
"The true test of a multimedia phone is one that will take a file straight off the computer, play it, and then be able to transfer it to another computer without involving any software," said Rose Li. "The big screen TV phone with dual SIM is such a phone."
According to Rose Li the big screen TV phone with dual SIM did more than that by offering a FM radio and TV receiver that worked independently of any mobile phone network.
"It plays music movies, radio and TV stations -- This phone is the complete multimedia package," says Rose Li.
Would you like to learn more about the big screen TV with dual SIM or see Chinavasion's wide selection of hot-selling wholesale mobile phones? Then visit Chinavasion, China's top wholesale dropship source of quality consumer electronics. For Western quality electronics at China prices you can't go past -- Chinavasion.com.
# # #