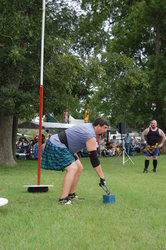 Charleston, SC (PRWEB) July 27, 2008
Family-friendly events and activities, Scottish-style, will be the highlight of the Scottish Games and Highland Gathering on September 20, 2008. The event will be held from 9:00 a.m.- 5:00 p.m. at historic Boone Hall Plantation in Mt. Pleasant. Tickets at the gate are $15 for adults, $5 for children and free for kids 5 years old and under. The houses and grounds of Boone Hall Plantation can also be explored. Attendees will enjoy bagpipe bands, drumming, fiddling, highland dancing, Olympic-style competitions and kids games. There will be a genealogy and clan tent and plenty of Scottish merchandise and food. A Border Collie Demo will feature examples of the energetic dog known for its intelligence and skill as a sheep herder.
In a nod to their original incarnation centuries ago, modern Scottish Highland Games revolve around athletic and sports competitions. Heavy athletic events (the weightiness of the objects being tossed or thrown makes the name an obvious choice) like the caber toss and 56 lb. weight toss are impressive demonstrations of strength and skill. Some consider the other activities and entertainment at these events simply icing on the cake, but what tasty icing it has proven to be as the thousands who attend the Charleston event each year can attest to. Over 25 bagpipe bands, Celtic rock bands and the sounds of laughter and merriment can be heard echoing across Boone Hall's scenic marshlands and through live oaks draped with moss, as people of all ages and from all backgrounds enjoy some Scottish spirit on a beautiful September day.
Boone Hall Plantation & Gardens is one of America's oldest working plantations and has been open to the public since 1956. A variety of crops are grown on site and some of the most popular are for sale at a large indoor market down the street. The grounds have been used as a scenic landmark in popular A-list movies like The Patriot and The Notebook, so don't be surprised if the locale seems familiar.
ResortQuest is offering visitors to Kiawah Island, Seabrook Island, Isle of Palms and Wild Dunes exciting and exclusive ways to save, all while staying in fully-equipped private homes, villas and cottages. The area offers miles of pristine beach, championship golf, tennis, biking, nature tours, shopping, dining, water-related activities and more. A program called ResortQuest Privileges offers special rates and discounts on activities, tours, dining, and shopping from area venues.
About ResortQuest
ResortQuest, one of the nation's leading vacation rental and resort real estate companies, provides a one-stop resource in North America's premier resort destinations. ResortQuest Charleston is the largest vacation rental company serving Charleston and the beach resort islands of Kiawah, Seabrook, Isle of Palms, Wild Dunes and Sullivan's Island. ResortQuest has offices located on Kiawah Island, Seabrook Island and Isle of Palms, South Carolina.
# # #