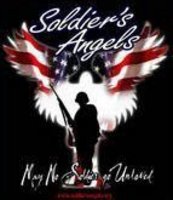 Valour-IT is one of our most powerful programs, and Soldiers' Angels is honored to be the recipient of this generous donation plan
Pasadena, CA (PRWEB) July 27, 2008
Colorado therapist Ellen Berk's history of counseling people with life-altering injuries or chronic disease has made her particularly sensitive to the challenges America's wounded service members face. In non-profit Soldiers' Angels Project Valour-IT, which helps supply voice-controlled laptops to severely-wounded troops, she has found a way to maximize her support. Beginning immediately, Berk will donate 50% of the proceeds from the sale of each downloadable version of her self-help program, "The Happtitude™ Perspective: the Right Attitude for a Good Life," to Project Valour-IT.
"Valour-IT is one of our most powerful programs, and Soldiers' Angels is honored to be the recipient of this generous donation plan," says Soldiers' Angels founder Patti Patton-Bader. "We are so excited to be working with Ms. Berk to make sure our heroes know that they are still loved and supported when they come home."
The Happtitude™ Perspective is a guided self-help program designed to assist people striving to live productive, purposeful lives despite challenges or disappointments. Berk hopes it can be helpful to veterans or active-duty military who may be reticent to seek formal counseling. For more information, or to purchase a downloadable copy that will support Project Valour-IT, see http://www.happtitude.com.
Soldiers' Angels is a volunteer-based 501(c)(3) non-profit organization providing aid and comfort to the men and women of the United States Army, Marines, Navy, Air Force and Coast Guard and their families. For more information, see http://www.soldiersangels.org or call 626-529-5114.
###