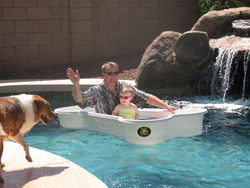 Las Vegas (PRWEB) July 28, 2008
Dog owners have always been able to go down to the local Big Box Store and pick up a little blue wading pool to keep their dogs cool in the summertime, but they're not Dog Pools, They're Kiddie Pools.
Ask anyone who has ever purchased one and they will say, that they are lucky to get a whole summer out of it. Heck, There are Rotties out there that can destroy one in less than 15 minutes. Like the old saying goes, " You get what you pay for".
Now there is an alternative from One Dog One Bone, The Bone Pool (for medium and large dogs) and the Paw Pool for small dogs. Both are patented.
Both pools are made with high quality durable HMWPE (high molecular weight polyethylene) with UV inhibitor. "These Pools were designed to last". "We had issues back when the Bone Pool first came out in 2005".
"The material and molding process we were using was not a good application and we had cracking issues in our 2005 and 2006 models".
"This was quickly resolved before the beginning of the 2007 season by using a different, better material (HMWPE/w UVI) and a more expensive mold process".
"We have not had an issue since", states Ray Palmer, President (Lead Dog) of One Dog One Bone.
"We wanted to make a pool for dogs that would last, so the consumer would have a choice".
"Once people get past the cute novelty of the designs, there is a true utility factor for these pools that has been recognized by pet resorts and kennels across the U.S., Canada and now into Europe".
"Our European distributor informed us that a city park in Belgium is renting them out so people can bring their dogs to the park and have "Dog Day at the Park"".
"I've even demonstrated there strength by using a pool, that has been exposed to the hot Arizona sun for almost two years, as a boat for myself and my one year old daughter".
"We are expanding our market globally by following the spring and summer season continuously".
###