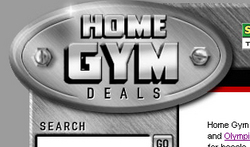 Our mission statement calls for us to provide products and services that add value to the quality of customers lives
Charlotte, NC (PRWEB) July 29, 2008
One of the internet's premier sources of in home gym equipment announces free shipping on all Continental U.S. orders. HomeGymDeals.com, online retailer of home gyms, dumbbells, weight benches, Smith Machines, Olympic Weights, and more promises customers free shipping with no hidden fees or surprises, resulting in convenient, hassle-free online shopping.
The announcement comes as part of an effort to reduce costs during the current economic slump. Due to the size and weight of home gym exercise equipment, shipping has, for some time, caused anxiety for customers interested in purchasing the various products that HomeGymDeals.com has to offer. HomeGymDeals.com hopes that the elimination of shipping charges will result in the elimination of such anxiety and an increase in the number of products sold.
"Our mission statement calls for us to provide products and services that add value to the quality of customers lives," says Neil Taft, President of HomeGymDeals.com. "Health and fitness are the basis for a better life, and by eliminating shipping costs, they become more accessible. Mission accomplished."
HomeGymDeals.com has quite a selection for customers seeking to improve their fitness with an in-home gym, as well. With home gym systems from Bodycraft, Bodylastics, and Titan, equipment ranging from exercise bands to squat racks, dumbbells and weights from Olympic, Troy, and Hampton, and home gym stations for every muscle group, their customers have a lot to choose from. HomeGymDeals.com also tries to make that choice easy with good Web site navigation and categorization of products by type and/or brand. Equipment is categorized as home gyms, gym equipment, dumbbells and weights, home gym stations, and accessories, and then by the type and/or band such Chrome Dumbbells or Yukon Smith Machines.
"Dealing with people who are in the process of improving their lives makes for pleasant and fulfilling conversations," says Taft. "We truly enjoy what we do here at HomeGymDeals.com, and we want to do things in a way that increases the number of conversations we have."
To have one of those conversations for yourself, or to browse home gym exercise equipment, visit HomeGymDeals.com.
About HomeGymDeals.com:
HomeGymDeals.com was created to help customers find the best selection of home gym equipment online, with rock bottom prices and friendly professional help. HomeGymDeals.com offers free shipping on all home gyms, weight equipment and workout accessories and encourages anyone seeking advice on the best equipment for their needs to contact HomeGymDeals.com and receive assistance in making an informed decision.
###