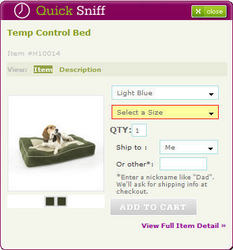 We really want to give our customers a superior shopping experience
PORTLAND, Maine (PRWEB) July 29, 2008 - FetchDog today announces a super-
charged product preview capability that reduces clicks and accelerates the online shopping experience.
The "Quick Sniff" one-click preview feature, now live at FetchDog.com, gives shoppers the inside scoop on any product and allows them to customize it and drop it right into their shopping cart. Without leaving the page, Quick Sniff displays a close up of the item along with pricing and product description.
"We really want to give our customers a superior shopping experience," says Peter Troast of FetchDog. "This is a very sophisticated feature that only elite ecommerce sites have yet. It's really the perfect blend of more information and less hassle."
FetchDog is a leading retailer of innovative dog products and an online community for dog owners.
The highly-regard FetchDog web site offers everything from tips on car travel with your dog to eco friendly dog beds. With hundreds of products, numerous blogs and expert guidance on all things canine FetchDog.com is the ultimate one-stop resource.
This tremendous depth of content is another reason Quick Sniff, though small in stature, is a big breakthrough for web shopping.
"FetchDog's users spend a great deal of their time on site within our Learn & Connect pages, where they have access to thousands of health, training and nutrition articles. With Quick Sniff, when an article suggests, for example, a particular shampoo for tick prevention, the customer can add that product to their cart without leaving the page. It creates a more fluid and less interruptive user experience."
To check out Quick Sniff and peruse the latest collection smart, stylish dog products, visit http://www.fetchdog.com.