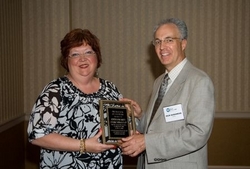 PAPSA Instructor of the Year Award.
Shamokin Dam, PA (PRWEB) July 29, 2008
Empire Education Group announces Shamokin Dam educator, Ann Darcangelo, is the recipient of the award "PAPSA Instructor of the Year Award." She received the honor at the PAPSA Annual Conference at the Valley Forge Radisson in King of Prussia, PA.
The Pennsylvania Association of Private School Administrators(PAPSA) represents the more than 320 private career colleges and schools in the Commonwealth before the legislature, state agencies and professional associations. PAPSA is the only association representing all for-profit colleges and schools in Pennsylvania. With over 150 school members, PAPSA is the unified voice of quality career school education.
PAPSA Executive Director, Richard Dumaresq, EdD presented Darcangelo with this award for meeting several criteria including; Response to Student's Needs, Effectiveness and Originality, Professional Achievements, and Quality of Recommendations.
All instructors, employed by Empire Education Group, are evaluated on four quantitative categories monthly; attendance, retention, placement, and licensure. Ann has consistently achieved excellent evaluations from her supervisors as well as Empire Corporate. She has ranked in the top 5% of educators in the entire company. Empire currently employs approximately 850 educators. She has also started her pursuit of a higher level of expertise in Empire's Career Advancement Program, a corporate education program that Empire Education Group offers to outstanding instructors as a way to continue professional development.
Ann started her career as a student at Empire Beauty School in 1992. She moved on to earn her teaching certification in cosmetology and is now a top-notch instructor in the Shamokin Dam Empire Beauty School. She has motivated students and instructors alike. Her talents as a fine educator and mentor have been noticed by many over the past 15 years. Her passion for the profession of cosmetology has even inspired a past student to move on to work alongside her at the Shamokin Dam School as an instructor.
Darcangelo currently runs the student clinic instructing the senior level students and making sure they are ready to graduate. Above and beyond normal standards, she teaches students the importance of selling retail products and has added to the curriculum marketing concepts such as up-selling and re-bookings as methods to build a customer base and have repeat sales.
Darcangelo also initiated a program that coordinated with Bucknell University to hold small business classes at the Shamokin Dam beauty school. The classes gave students additional training and tools they can use in order to open their own business/salon.
According to the National Accrediting Commission of Cosmetology Arts & Sciences December 2007 "Job Demand in the Cosmetology Industry" report, there are 1.7 million professional salon employees in the U.S. According to the U.S. Bureau of Labor Statistics, about 46 percent of those working in the profession are self-employed. Ann has worked tirelessly to ensure that the additional training her students receive is tailored to give them the best skills for success in their careers and life. She has written to numerous members of the government to support continued funding for Small Business Development Centers (SBDC's) and the Bucknell Small Business Development Center.
Empire Education Group is currently looking into taking this education model, which Ann initiated with Bucknell University, and adapting it for all school locations in the US.
Awards:

2nd place for Empire Education Group Educator of the Year (out of 87 Empire Beauty School locations, Darcangelo was ranked 2nd!)
ACTION Health Community Recognition Award from Northumberland &Snyder County
Darcangelo has also been recognized for the extra time she spends in managing the student salon, classroom and retail budgets for the school. Other notable recognition included awards for increasing sales in student salon numerous times to create record breaking revenues and mentoring students on marketing skills.
About Empire Education Group
Empire Education Group provides quality in cosmetology education, offering students many of the finest training tools and facilities. For the past 70 years, Empire has grown to become one of the largest providers of beauty and cosmetology education in North America. With 87 accredited cosmetology schools in 18 states Empire graduates over 8,000 students annually. The company prepares students for successful careers in cosmetology (hair care, skin care, and nail care.)
Schools accredited under Empire Education Group include; Empire Beauty Schools, Arthur Angelo, Artistic Beauty Colleges, Blaine, Chic University of Cosmetology, Concorde Academy, European Academy, The Hair Design School, Martin's College of Cosmetology, Natural Motion Institute, Pierre's School of Cosmetology, and Scot Lewis.
###