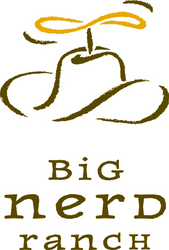 MicroISV: From Vision to Reality
Atlanta, GA (Vocus) July 29, 2008
Fire Your Boss with MicroISV/Startup Bootcamp, October 3-5, 2008.
There is a path between a great idea and a company; Bob Walsh knows that path better than anyone. Now, he brings that knowledge to the Big Nerd Ranch with the innovative MicroISV/Startup Bootcamp, October 3-5, 2008. The new three-day training class is designed for developers who have the technical skills, but thirst for the knowledge needed to start their own company.
Bob Walsh, author of "MicroISV: From Vision to Reality" and co-moderator of the Joel on Software Business of Software forum, has developed a rational, systematic approach to helping developers take their software or application idea to the next level.
For years, Big Nerd Ranch has offered innovative training classes for programmers and web developers, focusing on in-depth, intensive classes in cutting-edge programming languages and frameworks that hone skills and position developers to stay one step ahead of the fast-paced software and programming industry. With hundreds of experienced graduates brimming with creative new ideas for telephony, enterprise-level web-based applications, open-source applications for networks, and more, Big Nerd Ranch is partnering with Bob Walsh to train developers ready to fire their bosses and start their own software or web companies.
"We had to do it," said Big Nerd Ranch founder, Aaron Hillegass. "It just made sense. Each month we see dozens of new students who master these classes, whether it be in Cocoa, Ruby on Rails, Django, or Android, who see the potential of what they can now do with their knowledge, but lack the practical skills in taking their ideas and starting their own businesses. Bob Walsh and his MicroISV/Startup Bootcamp provide experienced developers the means to take that dream and make it a reality."
The class gets it done in just three days, a departure from the standard week-long Big Nerd Ranch bootcamp format. However, by the end of the class, students will be able to:

Define their new products
Develop and connect with markets that wants their products
Negotiate the nuts and bolts of creating a business infrastructure
Avoid some of the common revenue pitfalls entrepreneurs face
Complete the first draft of an initial microISV/startup business plan
Like other Big Nerd Ranch classes, students attending the class should be prepared to work hard; often in ways they have never had to work before.
The Big Nerd Ranch incorporates intensive training classes for Unix and Mac OS X programmers in a retreat setting outside Atlanta, GA. Class price of $1900 includes lodging, all meals, original instruction materials, 24-hour lab access, and transportation to and from the Atlanta airport. Students are encouraged to bring independent projects to class, allowing for input from classmates and individual instructor attention. For more information, call (404) 527-6211 or visit http://www.bignerdranch.com.
###