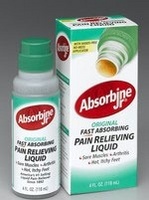 We're receiving calls and emails that Absorbine Jr. is flying off store shelves in these flood-ravaged areas with store personnel reporting to us that people are using it as an effective way to keep the biting gnats at bay
East Longmeadow, MA (PRWEB) July 29, 2008
The deluge of rain and flooding in various parts of the country, particularly in the Midwest, has created major devastation on many levels for residents of the hardest hit areas, particularly in Iowa. But as clean-up continues, a major nuisance has been swarming: gnats. These insects multiply as a result of the increased wetness and standing pools of water, causing misery for those who are outdoors with their swarming and itchy, painful bites.
Getting rid of standing water (such as that collected in empty plant pots, tire swings or buckets) and using insect repellents are some ways to keep these swarming gnats away. However, the phones are ringing at W. F. Young, Inc., the marketers of Absorbine Jr. Pain Relieving Liquid, a product with a loyal following amongst those who suffer from all sorts of aches and pains. It seems that many people are using Absorbine Jr. as a way to keep the gnats away - and the word-of-mouth message is spreading. This phenomenon has taken the 116-year-old company by surprise, as Absorbine Jr. is not labeled for this type of use.
"We're receiving calls and emails that Absorbine Jr. is flying off store shelves in these flood-ravaged areas with store personnel reporting to us that people are using it as an effective way to keep the biting gnats at bay," says Robert J. Wallace, vice president of sales and marketing at W.F. Young, Inc. "We do not market this product or make any claims that the product helps in this way, but it has become such a word-of-mouth phenomenon that stores in the area are ordering hundreds of extra bottles for desperate residents of their communities."
Why might a product known for its pain-reducing qualities work for controlling insects, such as gnats?
Wallace says some of the ingredients in Absorbine Jr., including the combination of natural menthol, absinthium oil and wormwood oil, amongst other herbal ingredients, give the product a pungent scent, which appears to be a winning combination for warding off the pesky gnats.
Susan Shinn-Bussell, general merchandise/drug manager at the Schnucks supermarket in Bettendorf, Iowa, says, "After watching Absorbine Jr. fly off the shelves, I decided to try it myself and was amazed. I don't know what makes the product so effective, but the swarming gnats left me alone."
To further help Iowans, W.F. Young will be donating 1,200 bottles of Absorbine Jr. to the Central Iowa Chapter of the American Red Cross. As the State Coordinating Chapter for Disaster Relief, they will distribute the product to families and relief workers statewide.
For more information, visit http://www.absorbinejr.com.
###