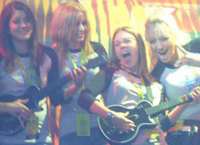 Charisma+2 presents QuakeCon Girls After Hours
Dallas, TX (PRWEB) July 29, 2008
Get ready to be blown away! Following the debut of Charisma+2 at The Game Developer's Conference 2008, where the agency was featured on XboxLive's "Inside with Major Nelson", MSNBC and G4, Yvonna Lynn brings her models beyond industry insiders to the masses of gamers at the nation's greatest LAN party, QuakeCon 2008. As President of Charisma+2, Yvonna Lynn scored the deal to become the exclusive agency for QuakeCon 2008 models. Four of the Charisma+2 models were hand picked by id Software to be QuakeCon girls this year, while four other models will be at the Charisma+2 booth in the BYOC (Bring Your Own Computer) area.
Charisma+2 will be holding matches throughout the event where attendees can play head to head with the attractive models. One of the models featured at this event is L337Lauren, winner of the Miss Video Game Tournament 2007 held in Montreal at Arcadia. Charisma+2 is also proud to present Kelly "Tipperqueen" of Team Pandemic , who brings the title of "World's Best Guitar Heroine" as another model you can try to beat. There are seven other girls who can be challenged, including 2 sponsored MLG players, Katia and Jessica, FPS Specialist Alexandra, and Racing Game Expert Ashley. All the C+2 models will be playing a variety of games, which is in itself a prize. However, Charisma+2 will be giving out autographed collector's cards of the models to those who outscore them. The people with the most signatures will be put into a bowl for a drawing. Prizes include: a bundle pack of autographed id video games, t-shirts, and posters. There will also be a special drawing for a date with a QuakeCon girl and a date with a Charisma+2 model.
The dueling will take place at the BYOC. Mind you, QuakeCon girls will only be available after hours, so devise a plan to catch them when you can. However, there will be Charisma+2 models at the booth during the entire event. With pro-level gamers like Lauren, Kelly, Jennifer, and Coley, as well as more casual gamer models like Daniy, we dare you to come to the Charisma+2 booth and take your best shot.
Competition Details:
What: Charisma+2's Head-to-Head Competition with any challenger at QuakeCon
Date: Thursday, July31st, Friday August 1, Saturday August 2nd
Time: varied: check Charisma+2 booth for details
Location: The "Charisma+2 presents QuakeCon Girls After Hours" Booth
About Charisma+2
Based in Dallas, Texas, Charisma+2 is a Limited Liability Company composed of highly skilled and outgoing gamer models that engage your event and tradeshow clients in an educated and articulate, yet fun and vivacious manner leaving your customers with an enduring and unique impression of your product or brand.
Charisma+2 offers a wide variety of models ranging from family friendly to tastefully sexy for a perfect fit to represent your product.
C+2 models have an average of 13 years of gaming experience across different genres and platforms. This level of technological immersion allows C+2 girls to provide unique and memorable brand impressions while attracting new customers to your booth or display. For more information, please visit CharismaPlus2.com
Press Contact:
Yvonna Lynn
214.727.8583
###