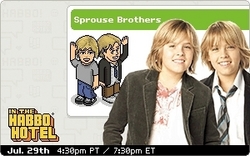 Los Angeles, CA (PRWEB) July 28, 2008
Habbo (http://www.habbo.com), the leading global online virtual world for teenagers, today announced that actors Dylan and Cole Sprouse, stars of Disney's The Suite Life of Zack & Cody, will check into the community for an interview and to celebrate their 16th birthday with fans.
The identical twin brothers will visit Habbo's Star Lounge on Tuesday, July 29 at 6:30 p.m. (PDT)/9:30 p.m. (EDT). Fans are invited to hang out with Dylan and Cole, ask questions and hear about their upcoming Disney Channel spin-off, The Suite Life on Deck.
After the interview with fans, the Sprouse brothers will continue their Habbo birthday bash by touring user-created virtual party rooms designed specifically for the hotel-wide celebration. Habbos will be able to groove and chat with the Sprouse brothers as they navigate their way through the party.
For the opportunity to meet the Sprouse brothers, log in to Habbo or join for free by going to http://www.habbo.com and clicking on the "Register Now" button. To hear the exclusive live discussion with Habbo DJs, tune into Habbo's Internet Radio Stream, Habbo Radio (http://www.habbo.com/community/celebrity_visits/81-habbo-radio).
About Dylan and Cole Sprouse
Dylan and Cole Sprouse began their acting careers at age six months with a commercial appearance and a shared starring role in ABC's Grace Under Fire. Since then, they have emerged as versatile actors, sharing parts in a variety of projects, including Columbia Pictures' Big Daddy, with Adam Sandler, and NBC's hit series Friends. In 2005, the brothers began acting opposite each other as stars of the Disney Channel's The Suite Life of Zack & Cody. This fall, Dylan and Cole will embark on a new adventure, costarring in the spin-off, The Suite Life on Deck. Both brothers are huge fans of motocross, snowboarding and surfing.
About Habbo
Habbo is a richly colorful, multi-dimensional virtual community and game environment for teens. Users join by creating a fully customized online character called a Habbo. From there, they can explore many public hang-outs, play a variety of games, connect with friends, decorate their own rooms, and have fun through creativity and self expression. Currently there are Habbo communities in 32 countries on six continents. To date, more than 100 million Habbo characters have been created and more than 10 million unique users worldwide visit Habbo each month (source: ComScore). Habbo is operated by Sulake Corporation, a Finnish online entertainment company. http://www.habbo.com
Habbo press images: http://www.sulake.com/press/image_bank
Contact Information:
Susan Mills
Edelman Public Relations
323-202-1050
Erik Fairleigh
Edelman Public Relations
323-202-1026
###