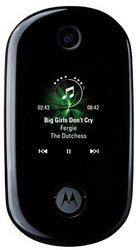 MOTO U9 is a stylish phone, designed for trendsetters seeking to make a fashion statement
New York, NY (PRWEB) July 28, 2008
Motorola, Inc. today announced that the stylish MOTO U9 is now available unlocked for GSM networks in the U.S. exclusively through MOTOSTORE (http://www.store.motorola.com/U9). In addition to its curvaceous, graceful design, the U9 features an abundance of mobile entertainment features.
"MOTO U9 is a stylish phone, designed for trendsetters seeking to make a fashion statement," said Pete Peterson, general manager, global ecommerce, Motorola Mobile Devices. "In addition, U9 delivers a dynamic music experience, allowing consumers to carry the music that moves them anywhere they go."
Seamless, small and light weight, the chic U9 has been designed to fit perfectly in the pocket or hand. Its metallic gloss finish comes to life with animated screen savers that appear to "float" across the borderless external display. This display is not just for show; however, as touch sensitive, digital keys let users control their music player from the outside.
In addition to the external music keys, the U9 delivers a robust suite of mobile music capabilities:

Easy transition from phone to music and back again, MOTO U9 allows one-touch access to your library and pauses music as calls come through.
Microsoft Windows Media Player 11 makes the U9 ready to rock as soon as it's out of the box, with simple synching and automatic recognition of the device.
Integrated music player supports multiple audio files: Windows WMAv10 plus Janus DRM, MP3, AAC, AAC+, AAC+ enhanced.
Ability to download¹ the latest music hits from more than 200 on-line music stores onto the device from a PC using USB2.0 for speedy transfers and data access.
Stereo Bluetooth wireless technology enables users to enjoy wireless mobile stereo experience.
Additional in-demand features round out a complete mobile experience:
Up to 25MB of on-board user memory and an optional microSD memory card enables storage of 4GB of music, pictures and other media.
Innovative CrystalTalk™ technology for better call clarity.
Advanced "speaker independent" voice recognition dialing and talking phone features take "hands free" to the next level.
A 2.0 megapixel with 8x zoom camera, multi-shot feature, video capture and playback, and light and landscape viewfinder delivers quality, printable and shareable images.
Impressive messaging capabilities via MMS, SMS, WVIM, Push Email¹.
Pricing and Availability:
MOTO U9 is now available in gunmetal grey exclusively through MOTOSTORE (http://www.store.motorola.com/U9) for $275.99. The device will be sold unlocked and is compatible with any existing GSM service. Additional colors, including pink and purple, are expected to be available soon.
For high-resolution images and additional information, please visit: http://direct.motorola.com/hellomoto/motoU9/.
About MOTO STORE Online:
MOTOSTORE, http://www.store.motorola.com, is the source for authentic Motorola products, including the widest selection available of Motorola phones, accessories, bundles and exclusive offers. Shoppers can choose from phones that are unlocked, unactivated or come with carrier service plans.
About Motorola:
Motorola is known around the world for innovation in communications. The company develops technologies, products and services that make mobile experiences possible. Our portfolio includes communications infrastructure, enterprise mobility solutions, digital set-tops, cable modems, mobile devices and Bluetooth accessories. Motorola is committed to delivering next generation communication solutions to people, businesses and governments. A Fortune 100 company with global presence and impact, Motorola had sales of U.S. $36.6 billion in 2007. For more information about our company, our people and our innovations, please visit http://www.motorola.com.
###