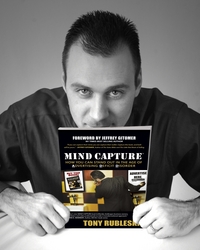 The concept of 'Mind Capture' is the #1 challenge in marketing
New York, NY (PRWEB) July 30, 2008
With the economy continuing to be a daily talking point with the media and by both Presidential candidates, a new book release arrives that's causing top minds ranging from academia, business best-selling authors, to CEO's and countless entrepreneur's to take notice. Despite the continual 'doom and gloom' reporting, author Tony Rubleski argues that understanding 'Mind Capture' and taking a fresh look at your marketing and sales strategy will determine your success or demise in today's sped up, web based world. In his new book published by Morgan James titled Mind Capture: How You Can Stand Out In The Age of Advertising Deficit Disorder, he's out to share with the world how successful businesses and non-profits capture attention to stand out from the sea of marketing chaos and short attention spans.
"The concept of 'Mind Capture' is the #1 challenge in marketing," states Rubleski. "The second book in the Mind Capture series explores the psychology of why people buy and then presents tactics that businesses, entrepreneurs, organizations and even politicians use to stand out, win more business, attention and differentiate themselves in the crowded and highly fragmented media universe. We're drunk on information and the amount of new media options being created creates even more and more confusion."
The book is written in a fun, direct, and engaging way to clearly stand out from the traditional boring business book often times full of theory and little, if any, real world specific strategies the reader can use to immediately help them. Everyone from the minister, politician, and entrepreneur, to parents and teachers have to become bottom-line salespeople to get their message out. True to the strategies that the book reveals, it provides "to the point" techniques and case studies that are concise, easy to digest and designed to help improve the readers marketing and sales efforts.
Using "to the point" techniques and case studies, including the one about a former rock star who used Mind Capture to raise money, Rubleski reveals several strategies including:
*Who are the best salespeople in the world (hint: many people have them);
*How both Presidential parties are using Mind Capture to sway opinions and votes;
*Why you must be Google-licous in the digital age;
*The #1 mistake 99% of businesses and organizations make in their marketing;
*Why the Internet giveth, and how it taketh away;
*How businesses and the non-profit community can join forces to accomplish their goals;
Rubleski is currently the president of Mind Capture Group which focuses on direct marketing consulting, copywriting, advanced public relations and sales and marketing training for business groups and sales teams. His first book, Mind Capture: How You Can Stand Out In The Age of Advertising Overload, released in 2006 with New York Publisher Morgan James was an underground sensation that burst on the scene with endorsements from many top business leaders and authors. His work has been featured in such outlets as Bottom Line Magazine, The Detroit Free Press, Entrepreneur Radio, to the FOX TV network, and interviews with many of the top sales and marketing minds in the world.
For media inquiries, interview requests and schedule availability please contact publicist Dianna Stampfler with Promote Michigan, at 269-330-4228
For information on the book including videos, audio, photos and additional information about author Tony Rubleski, http://www.MindCaptureBook.com
###