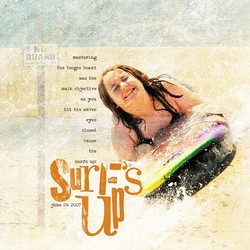 As digital scrapbooking moves into the mainstream
Bel Air, MD (PRWEB) July 29, 2008
Leading Internet digital scrapbooking supplies e-tailer DesignerDigitals.com today announced that it is certified to display the TRUSTe Web Privacy Seal. The Web Privacy Seal demonstrates DesignerDigitals commitment to protecting the privacy and data of its on-line community. TRUSTe is the leader in privacy certification. They award their privacy seal only to companies that complete the thorough certification process and agree to comply with ongoing oversight.
According to COO Randy Pertiet, who co-owns DesignerDigitals.com with his wife Katie Pertiet, certification was an important part of helping move digital scrapbooking forward as more and more traditional scrapbookers make the move to digital or hybrid scrapbooking.
"As digital scrapbooking moves into the mainstream," explained COO Randy Pertiet, "it was very important to us to demonstrate our commitment to privacy and data security to the traditional scrapbooker."
DesignerDigitals.com places a heavy emphasis on protecting the privacy and data security for its users. By becoming certified with TRUSTe's Web Privacy Seal, DesignerDigitals.com wants to expressly demonstrate its dedication to this end.
"As DesignerDigitals.com moves to the forefront of digital scrapbooking supplies, TRUSTe helps us demonstrate how serious we are about protecting the privacy of our customers," Randy Pertiet said.
For more information about DesignerDigitals.com, its privacy policy or data security, or for digital scrapbooking supplies, designs and services, visit DesignerDigitals.com.
About DesignerDigitals:
DesignerDigitals.com, a subsidiary of Click Creative Group Inc., is a leading Internet-based digital scrapbooking e-tailer based in Bel Air, MD. Founded in 2005, DesignerDigitals.com provides high quality digital scrapbooking design products and supplies for consumers to use in the creative process of preserving their memories and creatively expressing their personal life stories. The Web site's offerings include eclectic inventories of digital scrapbooking layouts, scrapbooking paper design templates, computer scrapbooking kits, paper packs, elements, lesson packs and more.
About TRUSTe:
TRUSTe advances privacy and trust in the networked world, helping consumers and businesses identify trustworthy online organizations through its Web Privacy Seal, Email Privacy Seal and Trusted Download Programs. TRUSTe certifies more than 2,400 Web sites, including leading brands such as AOL, eBay, IBM, Intuit, Microsoft and Oracle. TRUSTe resolves thousands of individual privacy disputes every year. To learn more about internet privacy visit http://www.truste.org.
Click Creative Group Inc.
Randy Pertiet
(410) 569-3561
press @ designerdigitals.com
###