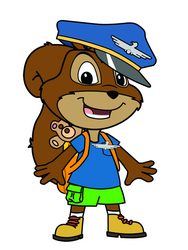 Research shows that children as young as 18 months can understand a message so let's positively reinforce a good message …and make it fun
Marin, CA (PRWEB) July 30, 2008
IAGmedia, Inc. launches -- delivering products that help instill good behavior in young children before they even reach the classroom. The Company infuses the principals of 4-H (head, heart, hands, and health) into each storyline and character, providing parents with products that playfully teach respect for self and family, and inspire contribution to community in young children.
"Discipline is difficult for parents today because it's considered an action resulting from a wrongdoing, and not guidance to help young kids build positive character," says company founder Stephanie Rach. "Our stories are full of music, mishap, humor and adventure, but deliver a relevant message that helps inspire positive action and manners …at any age."
The Company's goal is to help today's parents feel confident about setting parameters and expectations on their kids. Respectful behavior is the first priority.
"Research shows that children as young as 18 months can understand a message so let's positively reinforce a good message …and make it fun," Ms. Rach says. "All stories offer life-skills lessons and each is delivered in rhyme or a playful character, providing a positive connection between parent and child. "
The Company's product line includes:
Into the Great Outdoors DVD/CD/BOOK SET http://www.intothegreatoutdoors.com: an animated and live action adventure that teaches kids respect and manners through nature. Kids join Chipper on a song-filled journey, learning rhyme-filled lessons like "you can play, but don't stray," and the importance even the smallest creatures have on the environment. Includes DVD, 52-page Story & Activity book plus CD. Retails $24.95.
Beyond the Moon with Luna storybook: Luna discovers life beyond the moon is filled with more than giving milk and happy "moos." With the support of Chester, a wise ol' frog, Luna gains the confidence to take her first leap and discover she can go beyond her own expectations. Girls will gain confidence to leap for what they dream and learn to encourage others wanting to do the same. Retails $14.95. http://www.beyondthemoonwithluna.com.
Get Ready to Fly activity set -- helps young travelers earn their wings! From what to pack, to check-in, boarding, flying and landing, young kids are introduced to the over-stimulating experience of airports , and learn to be courteous flyers. Includes story activity book with crayons, plush, Pillow"back"Pack with front pocket for travel treasures. Retails $34.95. http://www.getreadytofly.com.
Sing-along/Read-along the first two books launch with vibrant illustrations and lyrics to dance, sing, or snuggle up to before naptime or bed. All Together Now and A Balloon Passes By feature the music of James K, a Bay Area musician often likened to Cat Stevens. Retail $18.95 each.
Additionally, the Company offers all natural sun sticks, T-shirts and merchandise which help parents reinforce the positive messages each character and storyline provides. IAGmedia supports each product with its "Less Packaging, More Fun" seal of approval: delivering quality products in minimal packaging using green standards in manufacturing. Over 90% of its products are made in Bay Area, California.
To learn more, please visit http://www.iagmedia.net or call 415-271-9603.
###