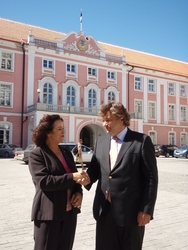 Although the relationship between the two countries is good there is still room for development and more active cooperation
Tallinn, Estonia (PRWEB) July 30, 2008
An Estonian entrepreneur and Morocco's honorary consul in Estonia Margus Reinsalu met the Moroccan Secretary of state Ministry of Foreign Affairs and Cooperation Mrs. Latifa Akharbach who during her stay in Estonia on the 25th July met the Estonian Minister of Foreign Affairs.
According to Reinsalu, cooperation possibilities between Estonia and Morocco as well as the development of business contacts were discussed. Issues such as energetic and oil-shale came up. Mrs. secretary of state Latifa Akharbach confirmed that Morocco is interested in the Estonian oil-shale business and the technology for its processing. "Although the relationship between the two countries is good there is still room for development and more active cooperation," Reinsalu said.
Reinsalu said that Estonia would welcome the Moroccan business delegations to introduce them to cooperation and business opportunities in Estonia.
"The investment protection system between Estonia and Morocco and contracts to avoid double
taxation would definitely boost the cooperation, " Reinsalu added.
The Estonian entrepreneur and Morocco's honorary consul in Estonia Margus Reinsalu is one of the partners in Morocco in the development of Le Jardin de Fleur - an area, which is to be transformed from the unknown coastline into a major holiday destination with the King Mohammed VI's Vision 2010 scheme.
On 26th July, Morocco's honorary consul Margus Reinsalu celebrated the coming Moroccan Enthronement Day at the Oandu watermill in Virumaa with a reception and a concert. The Enthronement Day, dedicated to the enthroning of the Moroccan king, is the most important public holiday in Morocco. The current king, Mohammed VI, came to rule in 1999 and during his reign the holiday is celebrated on 30th July. Among the guests at the reception held by Reinsalu were: Minister of Foreign Affairs of Estonia, members of Estonian parliament, ambassadors, honorary consuls in Estonia, many entrepreneurs, business partners and friends.
###