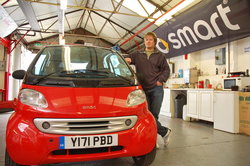 The 3-cylinder engine really benefits from a change in the standard set-up. We can easily increase torque and power, and reduce gear changing times as a result. The basic models, especially, can struggle a bit when overtaking or on hills.
(Vocus) July 29, 2008
The little Smart Cars, seen almost as a toy on their introduction ten years ago, are fast becoming one of the coolest ways to commute. Fun to drive and easy to park, they are also cheap to run - the perfect runabout in an age of oil shortage. Yet basic models are quite low-powered, so there's a fast-growing market in modifying them to get the best out of their little three-cylinder engines.
But there are two key features about modifying a Smart. Firstly, the mods must be done by a professional. And secondly - and just as critically - you need to get the modified car insured. And as anyone who's tried to insure a modified car can attest, insuring it can be the trickiest part.
Now Herts Insurance (HIC) has introduced a scheme that can insure almost any modified Smart - so long as it's street legal. And it can be surprisingly affordable and easy.
One of the leading Smart modifiers in the south of England is the Smart Car Super Store (SCSS), a one-stop shop for buying, supporting and tweaking Smarts. Paul Murphy, founder of the SCSS, has been a devotee for several years, but believes modifying it can repay dividends in performance without substantially affecting its great economy and handling.
''The little Smart is 'strangled' when it leaves the factory, for a variety of reasons, including emissions, noise and economy,'' says Paul Murphy. "The 3-cylinder engine really benefits from a change in the standard set-up. We can easily increase torque and power, and reduce gear changing times as a result. The basic models, especially, can struggle a bit when overtaking or on hills."
SCSS 'remap' the in-car computer to deliver more power, and modify them to achieve a more personal look for their owners, resulting in the car becoming more fun to drive than the plain vanilla standard versions. And that's turned out to be a huge success.
"The Smart's an eccentric car, and people seem to love modifying theirs," says Paul Murphy. "And not just petrolheads. Ordinary drivers who just want a little extra power for overtaking or on hills can come to us, for example.
"We've modified a huge variety. People can be really a bit off-the-wall about theirs," he adds. "We created a pink Cabriolet that was full of cosmetic modifications - an explosion of pink. An all-pink leather interior with pink leather cushions for the owner's five pets for example."
Obviously, performance enhancements need to be carried out by professionals. "The car's designed as a complete whole," stresses Paul Murphy. ''So if you increase the performance, you may need to upgrade the brakes or suspension. And an insurance company will want to know that the modification is done by an expert.''
The driving force behind the new Smart modified insurance scheme is Peter Cook of HIC, himself a Smart driver.
''The Smart's a terrific little motor, and I'm commuting a hundred miles a week in it, but it does struggle up hills sometimes,'' he says. "So I had SCSS do a remap and fit a special air filter. It gave me extra bhp without affecting the fuel consumption. And I was impressed with the way they explained the driving techniques that would get the best out of it."
Attention to detail such as this marks out a good modifier, adds Peter Cook, and allows HIC to give better insurance deals on modified Smarts with confidence.
SCSS is currently working on the ultimate modified Smart, a Roadster featuring over £20,000 in performance and cosmetic modifications, and which can outperform many Lotuses. Full details are still under wraps, but it's rumoured to have a phenomenal 120 bhp plus and acceleration from 0-60 of around six seconds.
The SCSS has an exclusive '100 Club', for those committed 100% to modifying their Smarts. Unusually for a car club it is invitation-only – and you'll be asked to submit details of your car to prove how committed you are to modding. The 100 Club allows you to compare your modifications with other members, seek or offer advice, and get a 5% discount on all products and services from SCSS.
What's more, HIC will give a discount of up to 10% on a Smart policy to members, says Peter Cook. "Belonging to the 100 Club means you'll be in a community that helps its members, and that gives HIC confidence that your modifications are insurer-friendly."
Here are the Top Smart Car Tips from the Smart Car Super Store:

Allow the engine to idle for 15 seconds or so after driving to allow the engine oil to cool the turbocharger. This will help to extend its life.
For maximum engine life, work the engine harder. The turbo only kicks in around 3,000 revs, and trying to pick up speed slowly in high gear from a slow start will put a strain on the engine.
Don't expect ECU remapping to be noticeable straight off. The computer will 'learn' your your driving style and adjust itself.
Change the turbo after 35k - 40k miles – this will help lengthen engine life and save you more money in the long run.
For more details of the Smart Car Super Store visit http://www.smartcarsuperstore.com or call 01794 367414.
HIC is the enthusiast's car insurer with a passion for motoring that translates into great deals on Smart Car insurance. For more information visit http://www.hertsinsurance.com or call 08451 290290.
Smart Car Super Store.doc – Jul-08
Press Enquiries:
Toni Turner or Alison Haynes at The Publicity Works:
Tel: (01263) 761000
Email: HIC @ publicityworks.biz
Andy Morton of HIC: 08451 290290
###