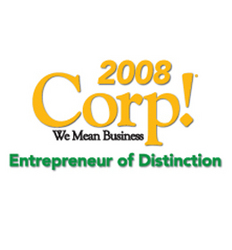 It's quite an honor.
Traverse City, MI (Vocus) July 30, 2008
Take a firm belief that success hinges on trust, honesty and integrity, and couple that with an entrepreneurial spirit and unfailing drive to succeed. The result: Corp! Magazine's Entrepreneur of Distinction, Oneupweb Founder and CEO Lisa Wehr.
"The growth and diversity of Michigan's changing economy are at the forefront, and I'm pleased to be able to play a positive part in helping to shape our state's future," Lisa says. "It's quite an honor."
It's certainly a role she is familiar with. Since relocating her industry-leading digital marketing company to Traverse City in 1996, Lisa has been a commendable role model for other Michigan entrepreneurs. It is her vision that fosters Oneupweb's strategic direction, increasing revenue by 40 percent and more year over year. In just 12 short years, she has taken her company from a 4-man shop in her basement to a 23,000 square foot, state-of-the-art facility on the shores of Grand Traverse Bay.
Lisa's experience, expertise and business philosophies have established her as a respected authority in the field of online marketing. She has been named an Ernst & Young Entrepreneur of the Year, a Leader & Innovator by Lawrence Technological University, and was selected to BtoB Magazine's Who's Who List five years, including being named 1 of 10 search marketing industry leaders in the Who's Who in Search category with Google founders Sergey Brin and Larry Page. And when Michigan Governor Jennifer M. Granholm introduced the state's aggressive plan to train workers for new careers in cutting-edge industries, it was Lisa who joined her at the podium.
Yet, like any true company visionary, she's quick to recognize the contributions of others.
"It takes a great team that contributes ideas and executes decisions. I'm really fortunate because I get to work everyday with a fantastic group of smart, innovative people," Lisa notes. "I feel a huge sense of responsibility towards them and our continued success."
About Oneupweb:
Oneupweb has been an innovator in digital marketing for more than a decade, creating integrated online marketing plans that include natural search engine optimization (SEO), paid search marketing (PPC), conversion improvement, podcast production, social media marketing, media placement and search marketing consultation for in-house marketing teams. Oneupweb was recently named a Top 20 Search Marketing Agency by Advertising Age, and CEO Lisa Wehr is recognized as an Ernst & Young Entrepreneur of the Year. The company publishes an award-winning blog and podcast entitled StraightUpSearch. Oneupweb is a privately held company located in Traverse City, Michigan. For more information on Oneupweb, please call 231.922.9977 or visit OneUpWeb.com.
###