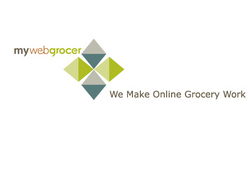 We have climbed into the top 2000 in under 3 months.
Colchester VT (Vocus) July 29, 2008
According to Quantcast, MyWebGrocer's network is now ranked in the top 2000 most visited sites based on monthly visitors. MyWebGrocer's network has 956,865 visitors worldwide on a monthly basis.
"We have climbed into the top 2000 in under 3 months." Explains Tim Kenney MyWebGrocer's Chief Operations Officer, "Grocery shoppers are rapidly adopting web tools to plan their meals, look for specials, build their shopping lists, and increasingly complete their shopping online. We expect to be in the top 1000 very soon as we expand the network of participating sites and shoppers continue to drive up traffic. The increased website traffic is fueling the expansion of our advertising business. Our ad network offers a unique way to get timely information in front of users focused on grocery shopping. Each month an increasing number of large consumer packaged goods firms are using our network to reach consumers."
MyWebGrocer's advertising network is divided into two categories based on where the ads are displayed; the e-commerce side of retail sites, and the grocery chain's home page. The e-commerce side of the site is specifically reserved for product brands sold at that location; the home page is open to advertising for products not necessarily sold by that chain. Ads on the e-commerce side display a list of items sold by that retail vendor. Ads on the home page can direct the customer to the manufacturer's website or landing page. MyWebGrocer creates highly targeted advertising campaigns for consumer packaged goods firms and other businesses related to retail grocery.
Becoming one of the top 2000 most visited networks is beneficial for current advertisers on the MyWebGrocer network, including Kellogg's, Upromise, and Kashi. As more people visit the network, the more exposure these advertisements will receive.
About MyWebGrocer: MyWebGrocer was one of the first to launch online services for retail grocers in 1999. Today, they continue to lead the industry by generating profits for clients using proprietary technologies enabling them to build customized, profitable, and integrated online channels. MyWebGrocer increases basket size, acquires new customers, retains current customers, and drives revenue in-store and online business for their clients. MyWebGrocer has the largest grocery advertising network in the country covering 85% of the US, earning their clients direct ad revenue. Some of their clients include Shoprite, Lowes Food Stores, Big Y, Food Lion and 80 other leading grocery chains. For more information please visit http://www.mywebgrocer.com or call 1-888-662-2284.
###