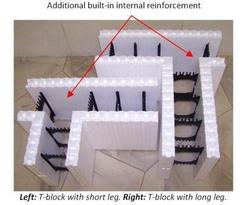 Toronto, ON (PRWEB) July 31, 2008
Once again Amvic Building System demonstrates excellent responsiveness to the needs of their customers as the company continues to innovate and expand their Insulated Concrete Form (ICF) product line. On August 15th, 2008 Amvic will release a new T-block ICF for the company's current 6" and 8" ICF lines for field testing.
The T-Block is designed for applications where two walls intersect. In most cases this occurs where an interior ICF wall connects to an exterior ICF wall. In residential construction this is uncommon since typically interior walls are constructed with either wood or steel framing. The demand for a T-block recently arose due to the increased growth of ICF use for commercial projects such as schools and hotels. Previously, installers would construct a T-block on site using straight forms, the process was time consuming and the intersection would require special attention and additional bracing. Now, with this exciting new product the ICF installation process can reach even higher levels of efficiency and productivity which will translate to quicker occupancy and greater profits for Amvic's customers.
The NEW Amvic T-block will be available in two configurations. For both models, the top of the 'T' will be the same length but the direction of the longer side will be inversed. One model will have a short leg (bottom of the T) and one will have a long leg. This is so when the wall is installed the forms can be alternated to ensure that the joints are staggered, which will increase the strength of the wall at the intersection during the concrete pour and reduce the need for additional bracing. In addition, the outside wall panel for each form will contain additional built-in internal polypropylene reinforcement to provide extra strength.
Like all Amvic forms, the T-block will feature the patented 1" deep FormLockTM reversible interlock which connects the forms tightly together without the need for gluing or taping. They will also contain the same 100% recycled polypropylene webs which will hold the three panels of Expanded Polystyrene (EPS) together, hold reinforcing steel and act as furring strips for interior and exterior finishings. The design of the new forms in conjunction with these features will provide exceptional strength and virtually eliminate the chance of form failure.
About Amvic Building System: Amvic Building System based in Toronto, Ontario, is an industry leading manufacturer of Expanded Polystyrene (EPS) building materials. The main product lines sold across North America include Amvic Insulated Concrete Forms (ICF) and the NEW patented AmDeck Floor & Roof SystemTM. Amvic also produces a vinyl window and door block-out called Amvic Buck System, Amvic Design Software for engineers, SilveRboard reflective insulation and Envirosheet rigid flat-sheet insulation. Amvic products consistently exemplify exceptional quality, superior strength and ease of installation. In addition, they result in long term cost savings, offer superior comfort, and are environmentally friendly. For more information, please visit http://www.amvicsystem.com.
###