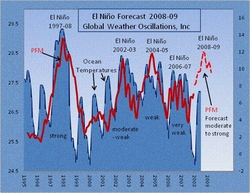 Primary Forcing Mechanism (PFM) for climate
Ocala, FL (PRWEB) July 30, 2008
The El Niño which in Spanish means "little boy" and refers to "Christ Child", forms approximately every 4 to 7 years in the tropical South Pacific Ocean. It is a pool of very warm ocean water that suddenly moves east from near Australia across the tropical South Pacific, normally reaching the coast of South America near Ecuador and Peru around Christmas, raising havoc with fishing interests and causing significant disruptions in worldwide weather patterns.
Meteorologist and climate researcher David Dilley of Global Weather Oscillations Inc. (GWO) says a recurring gravitational cycle called the "Primary Forcing Mechanism (PFM) for climate", will act like a magnet and cause the South Pacific high pressure center to be pulled out of its normal location in October and November, setting the stage for a moderate to strong El Niño to form in December.
During non El Niño years, prevailing easterly trade winds keep ocean waters relatively cool in the central South Pacific Region, and in turn causes a warm pool of water to gradually pile up in the Western Pacific near Australia. Then as the PFM gravitational cycle pulls the tropical high pressure system from its normal location, the easterly trade winds suddenly shift direction to westerly.
This shift allows the very warm pool of water near Australia to move east toward South America as an El Niño. As it moves east it disrupts normal atmospheric weather patterns around the world, causing some areas to have stronger than normal storms, and some areas less stormy weather. It also causes changes in ocean currents and temperatures, thus disrupting commercial fishing.
Mr. Dilley says the PFM gravitational cycle that controls the formation of an El Niño peaks approximately every 4 years, and it will again peak during this September into January. As this occurs, the tropical South Pacific Ocean and atmospheric winds will respond rapidly and cause the formation of a moderate to strong El Niño by Christmas. This will likely be the strongest El Niño in over 10 years, and cause disruptions in weather patterns during the winter months in the Northern Hemisphere, and summer months in the Southern hemisphere.
The technology used in forecasting the upcoming El Niño is the same used for predicting the natural cycles of global warming and cooling. PFM gravitational cycles pull the atmosphere's high pressure systems northward or southward by as much as 3 or 5 degrees of latitude from their normal seasonal positions.
These cycles correspond nearly 100 percent with the last 24 moderate to strong El Niño occurrences since 1914, and with global warming cycles that recur approximate every 230 years, and mega global warming cycles that occur every 116,000 years. Additional information on the El Niño and the peer reviewed computer e-Book "Global Warming - Global Cooling, Natural Cause Found" is available at http://www.globalweathercycles.com.
David Dilley is a meteorologist and climate researcher with Global Weather Oscillations Inc. (GWO), former meteorologist with the National Weather Service, and co-host of the radio program "the Politically Incorrect Weather Guys" airing weekly on RadioEarNetwork.com, an internet streaming radio program.
###